Dressed for Every Occasion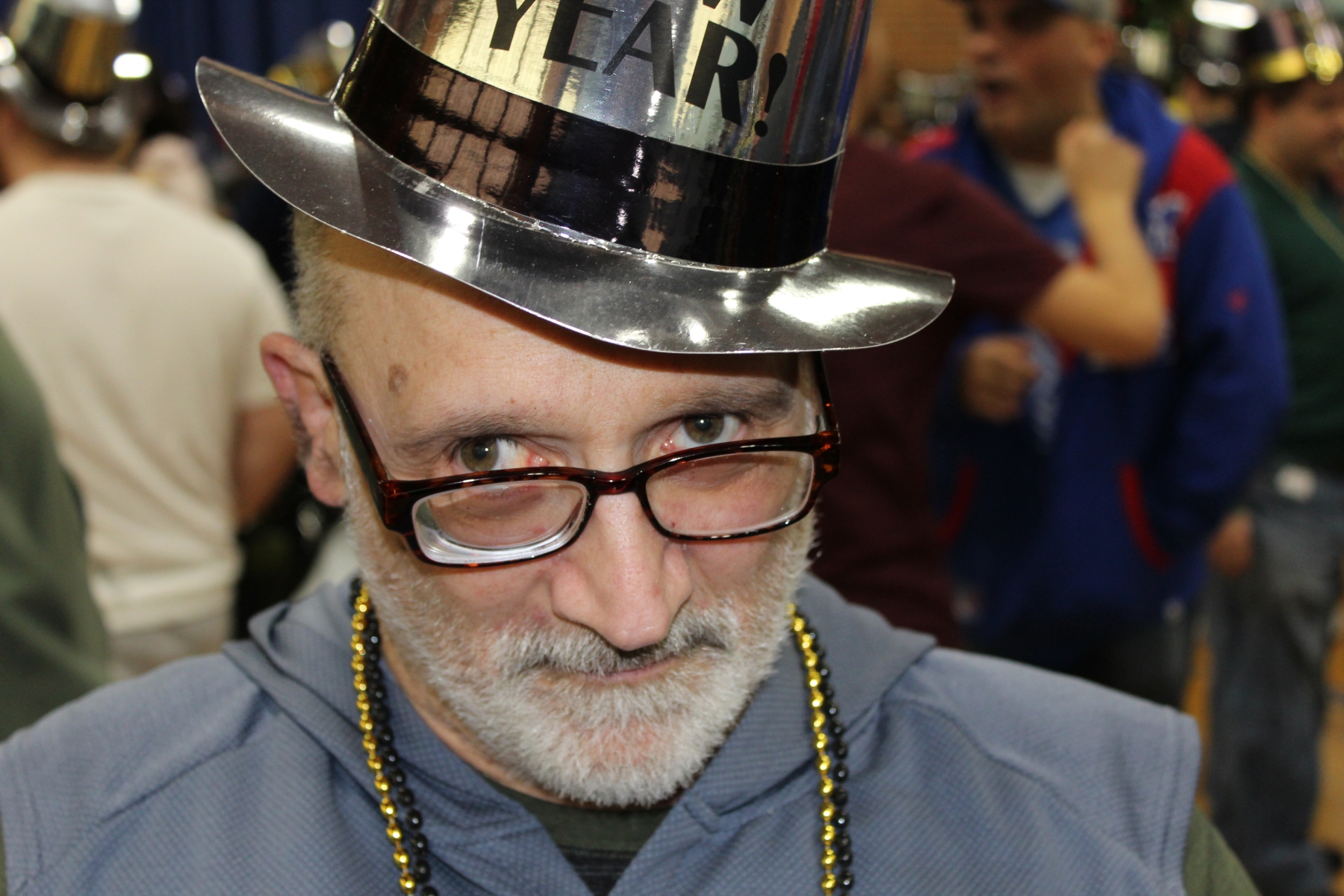 Wherever he went, Sal DiBenedetto had a good time. And having a good time for Sal meant making sure that everyone else was having a good time too.
Stocky and bespectacled with a neat white beard, he was a powerhouse of energy. His gravelly voice was a familiar sound wherever he was, whether singing or telling a joke. At a party, every lady at his table was his dance partner.
As gregarious as he was, he also had a thoughtful, reflective side that he expressed in poetry and art.
When he died in the hospital on April 10, 2020 from Covid-19, the 59-year-old left everyone he knew with vivid memories of his creativity, thoughtfulness, and stubbornness too.
"For the time he was here, he did have an abundance of friends and family who enjoyed him and loved him and protected him," said his older sister, Sandra Matrisciani.
Sal DiBenedetto and his Family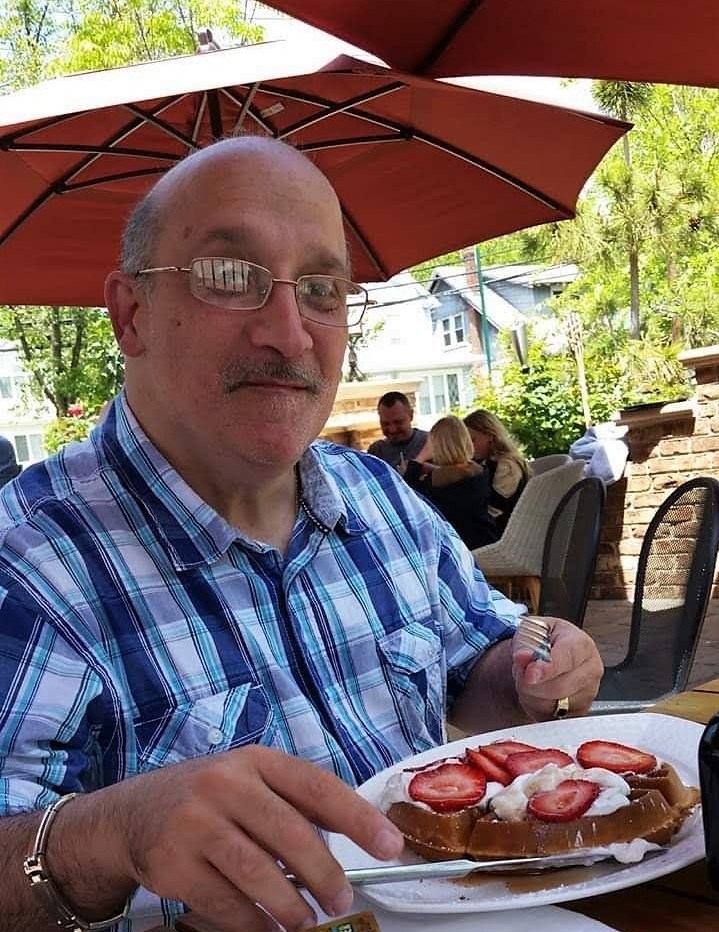 HENRY STREET
Born on February 22, 1961, Sal grew up on Henry Street in Brooklyn. He had serious cardiac and neurological conditions that required surgeries, from the time he was a young child. But he defied doctors' many dire prognostications by living life with a passion.
"He was a handful growing up," says his sister. "Nothing got in his way when he wanted to do something."
Evidence of his single-mindedness surfaced early.
His sister-in-law Jo-Anne DiBenedetto, who lived across the street from her future husband's family, remembers Sal as a youngster shooting out of the house to hop into an idling delivery truck making rounds in the neighborhood with bread, milk or meat.
"Like a bullet, he would jump in the truck, and I don't know how, but he got it in gear," laughed Mrs. DiBenedetto.
Fortunately, he grew up in a protective environment in Brooklyn, observed his sister. People in the neighborhood were often out on the front stoop, and they all knew "Sallie Boy" and his limitations.
"We would be told right away – 'I just saw Sal on DeGraw' — if he went roaming someplace like Rocco the Shoemaker's," she said.
Sal attend PS 29 and Edward R. Murrow High School in Brooklyn. As he matured, he pursued his interests in music, dancing, writing and drawing.
MUSICAL BONDS
He developed his love for music listening to Cousin Brucie when he was on WABC and later on WCBS. The popular DJ had countless call-in contests. Sal would announce, "Ma, I know the answer. I have to call Cousin Brucie." His pile of T-shirts and autographed photographs proves he knew the answers.
When it came time to go to concerts, his mother, Jean "Jennie" DiBenedetto, catered to his love of music, attending performances with him all over the metropolitan area.
Never shy of being the center of attention, Sal would not only love seeing his favorite artists, he would manage to be the one onstage when they asked for a volunteer. A great singer and dancer, Sal knew all the moves and lyrics, leaving no doubt they picked the right one. He held his own with the Four Tops, according to Mrs. DiBenedetto. Among the many stars he connected with over the years are Engelbert Humperdinck, Vito Picone and Tony Orlando.
MEETING A LEGEND
His younger sister Letizia DiBenedetto actually arranged a meeting with Orlando in Atlantic City. Sal loved a good singer, and Orlando was his idol as both singer and songwriter. The best account is in Sal's own words:
It was also a memorable experience for Orlando who posted on his Instagram page when he heard that Sal died.
View this post on Instagram
"My best memories are not the big things, the concerts, but in the small things that we did together. He loved to go out to lunch or dinner," said his younger sister. "We always went Christmas shopping and then had a crafts session making presents. He loved brother-sister time. Loved to be out with the family. He knew someone wherever we went."
MOVE TO STATEN ISLAND
When Sal's mother died suddenly in 2002, he moved to Great Kills to live with his brother Matthew and sister-in-law Jo-Anne.
She set limits with Sal, assigning him chores and not taking any excuses he tried such as not being able to carry the groceries because he had a cardiac condition. With his brother, he enjoyed fishing and baseball and activities such as jet skiing which she was just as happy not to know about before-hand.
Together, they helped ease the emotional turmoil of losing his mother, by continuing the activities they had enjoyed together.
At a Doo Wop show at New Dorp High School, his brother discovered the reach of Sal's social network. All the regulars were yelling "Hey Sally Boy," and they were ushered in to the backstage party.
LIGHT ON HIS FEET
Coming from a family of great dancers, Sal had a private instructor in Ms. Matrisciani, a ballroom dancing instructor, who not only taught him the Lindy, the Bump and the Hustle, she brought him along when she went dancing with friends.

"My friends adored him because he was the consummate dancer," said Ms. Matrisciani.
Once on Staten Island, Sal broadened his dancing "fan base." A New Year's Eve party at the Great Kills Yacht Club was typical of his love for music and dancing.
"By the end of the night, everyone was thanking us for coming," recalls Mrs. DiBenedetto. "All night long he was on the dance floor. And he was getting all the women drinks while he drank his ginger ale."
A SHOWMAN
One of Sal's happy places was with a microphone in his hand. A visit to Disney World's Pleasure Island, now gone, is part of family legend. Sal entered the recording booth and with a hat, guitar and stadium background, he became Carlos Santana.
"He was so good, they put him up on all the screens," said Mrs. DiBenedetto, still marveling at the performance.
AUTHORITY ON MUSIC
At Lifestyles for the Disabled in Willowbrook, he found numerous opportunities to pick up that mic performing in the Music Department and conducting interviews in the Media Department.
­­At Life-Tones concerts, if Sal sang and played percussion. And he was never "just singing."
"Just WATCHING him perform for a few minutes does more than any descriptive language can," says Robert Kipp, director of the music department. He provides one with Sal "playing a harmonica and making the most of his wireless mic dancing and singing."
"He never waffled or gave less than his best effort. He had a beautiful gravelly voice that always toughened up any song he wanted to play, and I couldn't believe how many songs he knew!" added Kip. "I certainly fell down the rabbit hole talking about songs and jamming on them with Sal for many of my work-hours."
It was the same for Tony DeSimone, Media Department staff, who started his day on Sal's van run from the group home that he had moved to.
"Sal and I were of the same age. He loved music, especially Doo Wop. He could name every artist to every song. He was my "go to guy" for everything music," said DeSimone. "I loved to hear his raspy voice. He reminded me of "Wolfman Jack," a radio DJ from the 1960s, 70s and 80s. I would kid him about that, and he would love it. Sal was the authority on music."
TEAM PLAYER
In the Media Department, Sal wrote content, conducted interviews, took photos and kept everyone up to date especially with entertainment news.
His peers were appreciative of the energy he brought into the room too. He was a wrestling and classic car fan. His Halloween costumes generated admiration. He was ready for any celebration, but the annual goblin and ghoul fest was one of his favorites.
Still, as much as Sal craved to be the center of attention, he helped his peers shine.
Sal's Elvis

Joe Padalino, a Media Department program participant, recalls working on a video game with another participant.
"Sal did the drawings with Steven. He also did the voices. He made me laugh," said Padalino. "He was so energetic. He made everybody laugh. He had that spark."
Sal always had something to share: He'd arrive with an idea for an activity that was connected to the day's milestone or current event. He also enjoyed the quiet, introspective activity of writing a poem or drawing a picture. A conversation with him could lead to being presented with either or both.
THINK ON HIS FEET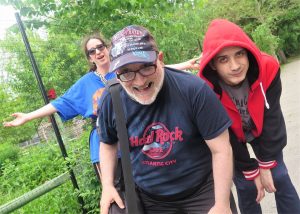 "He was a 'think on your feet with a punchline' response kind of guy!" said Joe Maturi, who worked with Sal from the beginning. "Sal's biggest challenge was, for most of us, change. If you changed his program, or if he did not want to do something, that was the biggest struggle. He would sit in the chair complaining and not move."
But Sal could also smoothly switch gears. One memorable day, he decided he wanted to join his friends at music class, even though it was not on his schedule. He dug in not willing to budge.
"Then he heard a song on the radio and started to dance and sing back into the media room as if nothing happened. That was Sal. A great man, filled with a lot of energy and jokes, talented in everything he did, always giving it his all," said Maturi.
Sal got along with everyone, and he was particularly attentive to his lady friends. Among them was one special one – Janet C, his longtime girlfriend.
"Sal was very kind and always made my Janet laugh. She misses him every day," said her mother Linda Catapano.