Sonya Alexander was in her happy place when she was dancing.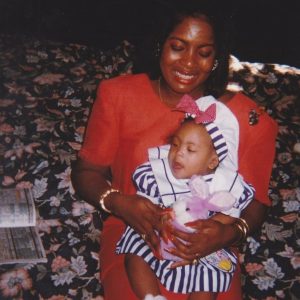 "Even when she was in my belly, when you play music, she would dance," said her mother Rety Alexander.
Sonya was born with Downs syndrome in the Bronx in 1994. Mischievous and independent, she loved stylish outfits and appreciated good food. On April 5, 2020 she died from COVID-19 at the age of 25.
She lived in a New Brighton group home and was attending programs at Lifestyles for the Disabled at the time of her death.
CHURCH ON SUNDAY
"She would walk in like a breath of fresh air and sunshine, asking 'Do I look nice?'" said her mother. With song and prayer books, she was very involved in the service.
After the service, lunch was served. Sonya helped herself to salad and dinner, taking enough for leftovers so she could bring a "cooked meal" and "not a sandwich" for lunch on Monday.
CRAFTS AND DANCE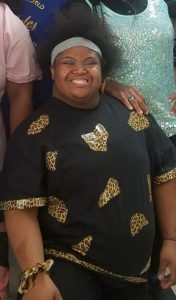 At Lifestyles, Sonya participated in Loads of Fun, a group busy with outings, crafts, including jewelry making, and dance. The weekly trip to Heidi Cangiarella's dance studio was a highlight for her.
" That was her thing. She just kind of went into her own little world," said Stephanie Distefano, a DSP with the Loads of Fun group.
Dance practice culminated in spring and fall recitals. Sonya relished the performance and the preparation, especially helping to design the costumes. Here are two performances you can see on Youtube: Swing into Spring in 2019 and the Spring Fling Dance Party 2019 (Sonya is in the front row, far left.)
"She liked being creative. And when it came down to making the shirts, she really, really enjoyed that," said Distefano.
MISCHIEVOUS CHARMER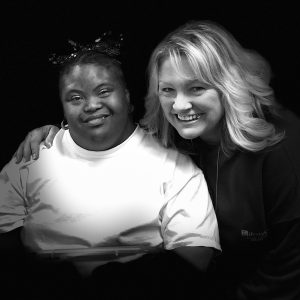 To know Sonya was to know her impish smile which would appear when she was up to something.
"She had a great personality, a good sense of humor and liked to have fun," said Kristina Collins, Senior Habilitation Specialist. When she was up to some "shenanigans," said Collins, "She would look at you with big eyes and half a grin, insisting "I don't know what happened. I didn't do it.' "
If pressed with a question she did not want to answer, Sonya would just resort to the silent treatment and stare at you.
"She had her moods," observed her mother.
Sonya didn't speak much until she was around 11 years old, but through gestures and sounds, she made herself heard. She also picked up some Spanish and sign language in programs she was in. And she was always outgoing.
Her mother chuckles over the time they were riding the bus together and she started to realize that Sonya was communicating with two students who were using sign language. Their teacher told Miss Alexander, Yes, her daughter was telling them she likes pizza.
EMBRACED INDEPENDENCE
Sonya's mother encouraged her to be independent with the attitude, "Yes. You can do that" and enabled her to keep busy and active. When they lived in Co-Op City in the Bronx, Sonya attended the Westchester School for Special Children and after school programs at the Kingsbridge Community Center. Summer days were kept busy with AHRC programs that included sleep away camp and day trips to places like Lincoln Center.
College of Staten Island's Creative Exchange Program
.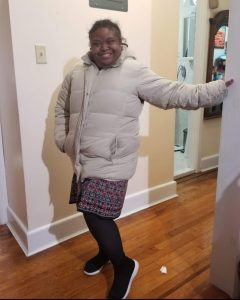 When she was growing up, Sonya had fosters sisters who her mother cared for, and they all did chores in their home – folding laundry, washing dishes and sweeping the floor. Sonya made her bed every day.
The training in daily living activities prepared her for a smooth transition to living in a group home in 2015. In addition, her mother said, she enjoyed all the social activities and outings such as going out to eat, getting her nails done, shopping, the movies and apple picking.
"She was never treated differently. And she did not let her having Down syndrome limit her," said her mother.
SURVIVORS
In addition to her mother, Sonya is survived by two grandmothers, two uncles, one aunt, and several great aunts and cousins.