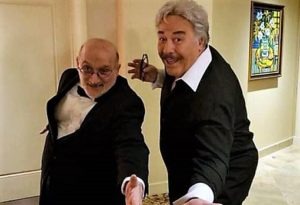 By Sal DiBenedetto
Who would dream of meeting a legend? That's what happened to me when my sister Lee and I went to Atlantic City to see Tony Orlando.
When I was ten years old I heard a song called "Candida" on the radio. It felt like smooth rhythm that makes you want to dance. His gentle voice was out of the ordinary. It's like meeting a friend.
Then came "Knock Three Times," "Sweet Gipsy Rose," "Who's In the Strawberry Patch With Sally?", "Gonna Boogie Tonight," "Tie A Yellow Ribbon," "He Don't Love You Like I Love You" and "Cupid."
Before the show, my sister and I went to the 39th floor. I'm standing in front of the door. Tony opens the door. I say "Oh my God!" We walk into the room. We're talking and laughing. We take some pictures.
I give Tony a gift for Christmas. He reads the card: "Dear Tom Jones."
We all enjoy a good joke.
My sister and I went to the show. What a performance. It's like a time machine and you are traveling back in time.