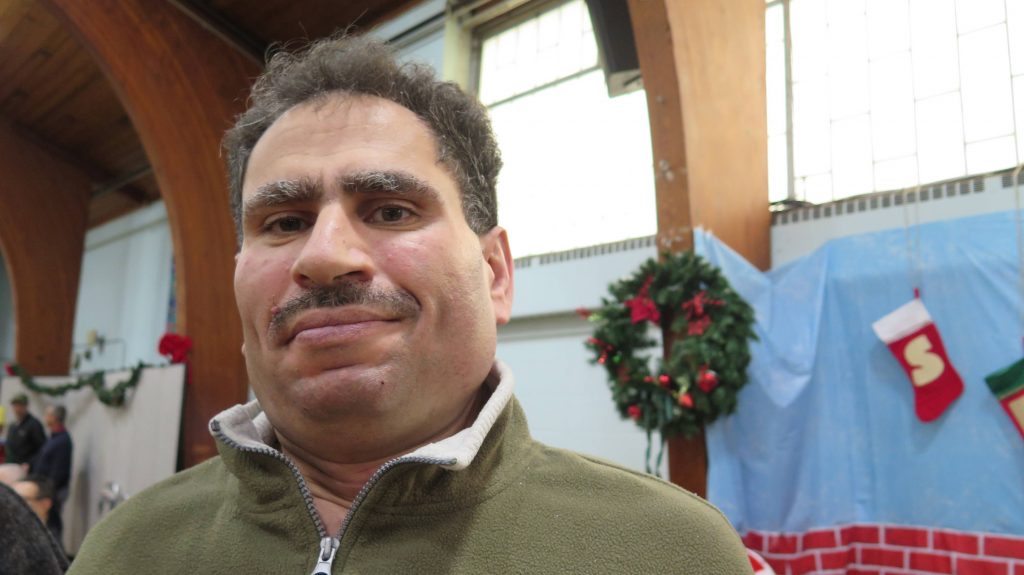 Glenn Mazzola was a man of few words with an easy laugh. With dark brushy eyebrows over soft brown eyes, Glenn's serious expression was completely transformed when he smiled. Although he maintained a quiet presence, he was ready to join in to the activity at hand.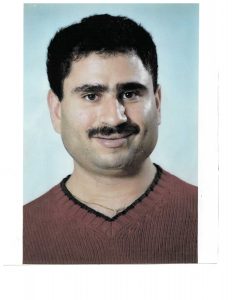 "My brother Glenn was a kind and gentle person who was quiet but good natured towards others," said John Mazzola.
Glenn died on April 2, 2020 after contracting Covid-19. The 50-year-old grew up in the Gravesend section of Brooklyn with his brother and parents.
"My parents were most important to Glenn as they had taken care of him most of his life," said his brother. "He was happy with my Dad always there by his side to have someone to look up-to and look out for him and protect him through the years. My Mom always showed him love and affection in a happy home for us both growing up as kids."
After his dad Angelo Mazzola died in 2015, Glenn and his mother, Jo-Ann, moved to Eltingville in 2017. Glenn was 47, and he soon enrolled in Lifestyles for the Disabled.
"He enjoyed going to Lifestyles, and my Mom was glad to have found Lifestyles after relocating to Staten Island to be closer to me," said his brother.
DAY HAB PROGRAM
At Lifestyles, an agency for adults with developmental disabilities, Glenn participated in a Community Group and the Media Department.
The Community Group made the rounds to the Staten Island Zoo, Snug Harbor Cultural Center and Richmond Town to clean, sweep or rake the grounds.
"Glenn was a very quiet guy. He enjoyed his peers and the different activities the group did," says Joe Tripodi, direct support professional who ran the group. "I remember, he really did enjoy Fast Break and interacting with his friends." Fast Break is a basketball gym in Richmond Valley.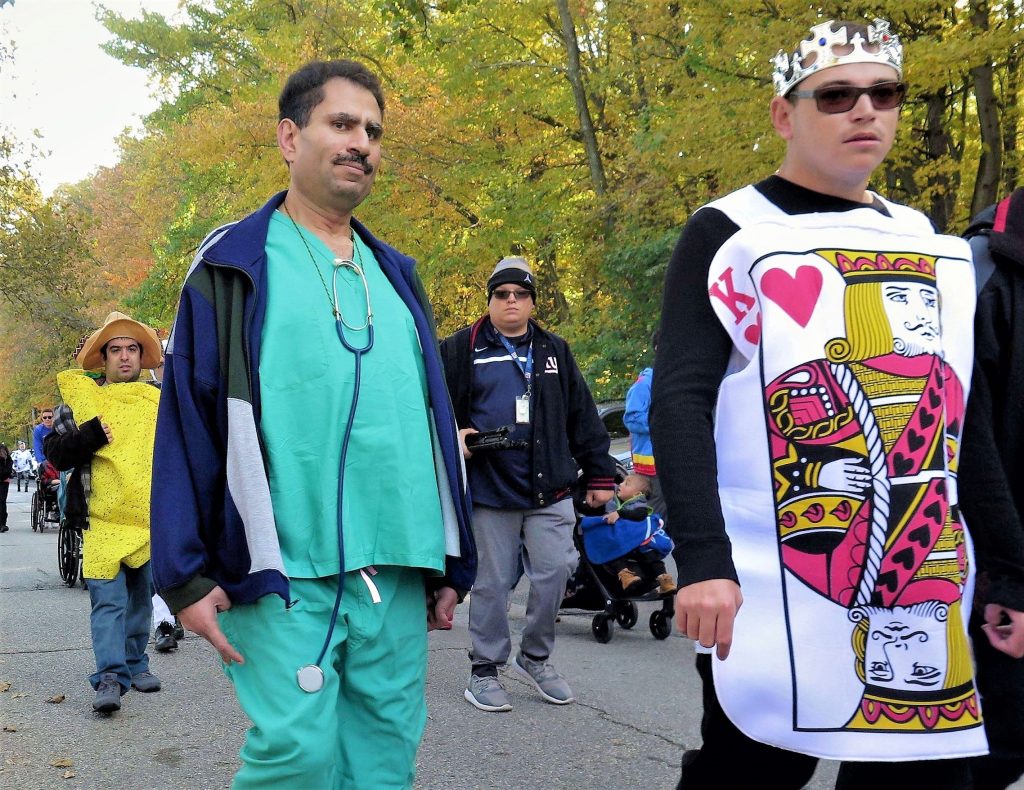 In the Media Department, Glenn was always ready to go on an outing and take photos. He also joined in campus walks and always volunteered to help pick up lunch at the Lifestyles Caffe. Glenn's T-shirt collection, particularly his cool Batman and Superman T-shirts, are remembered with admiration and a little envy.
"He was a good man. A gentle soul. He was always laughing," said Joseph Padalino, a member of the Media Department.
"He wasn't a loud guy. He was a very soft and gentle guy," said Antonio Pabon, also a member of the Media Department.
"He was ready to do whatever the group was doing. He was helpful with the bulletin boards," said Tony DeSimone, a DSP in the Media Department.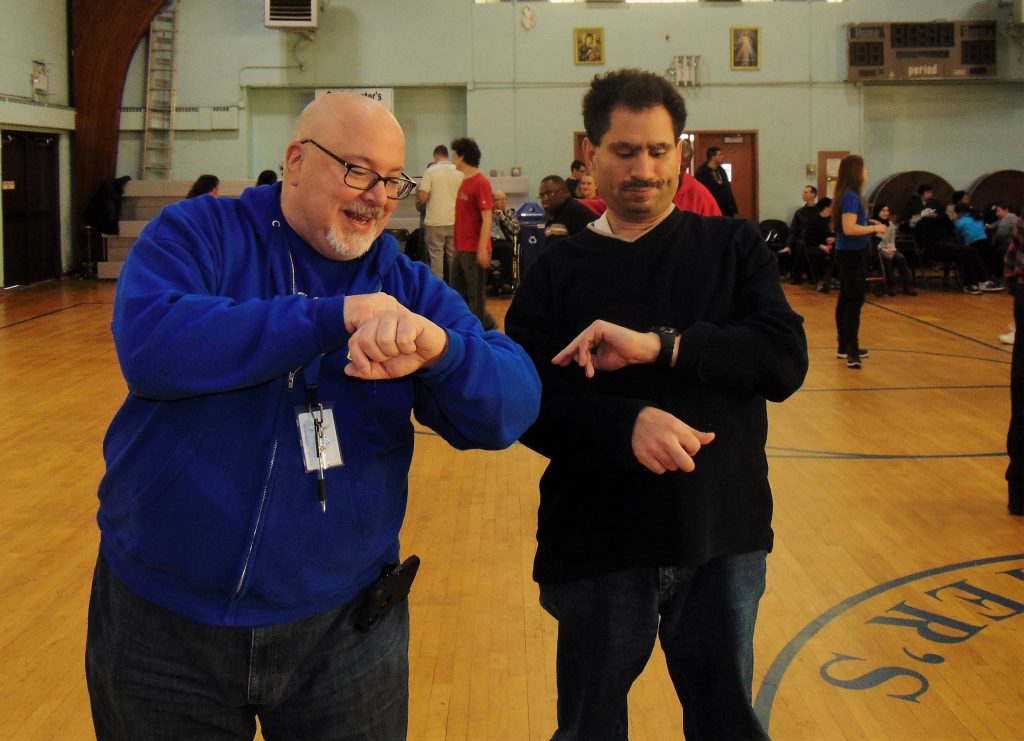 Glenn was a frequent participant at Zumba. When he was kidded about always checking on the time when he was there, he good naturedly posed for a photo with DeSimone.
AT HOME
At home, Glenn enjoyed going to the movies, bowling, listening to his music, and playing video games.
When his mother died unexpectedly in 2019, Glenn felt the loss deeply. His brother and sister-in-law, Lori Mazzola, stepped in to help care for him. They also added a new person to the family in 2020, their baby son.
"I have fond memories of having our Sunday dinners growing up as kids with my parents. We enjoyed the holidays and celebrating birthdays. He always picked out the Birthday cards to give to others," said Mazzola. "We miss him dearly."