Cosmo Caminiti was known for his independence and nice guy approach to life, along with his keen knowledge of the American Songbook and a nearly legendary bottle and can collecting route.
Kevin Stiland can still hear Cosmo's signature response.
"Beautiful, beautiful."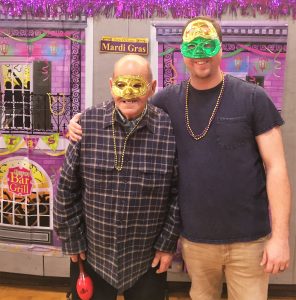 Cosmo was part of the Leisure Group that Stiland ran at Lifestyles for the Disabled, an agency for adults with developmental disabilities. Cosmo was more like a grandfatherly friend, said Stiland, telling jokes and singing the old standards.
So when Cosmo died at 77 years old from Covid-19 on July 29, 2020, Stiland was among many who felt the loss deeply.
"This one is hitting me really hard today," wrote Stiland on his Facebook page. "I had the absolute pleasure of working with this kind, sweet man for the better part of seven years. He's been thru so much in his life, and throughout it all always wore a smile!"
Cosmo grew up in Willowbrook State School, an institution notorious for the cruel and dehumanizing treatment of the people with developmental disabilities who lived there. A Consent Decree ordered it closed in 1975, and the process was completed in 1987.
SELF-RELIANT
One word everyone seems to use to describe Cosmo is independent.
When he left Willowbrook, he went out on his own and got a job washing cars at the Angiuli car dealership on Bay Street and Victory Boulevard, according to Richard Salinardi, executive director of Lifestyles for the Disabled.
"He had his own niche down there. He was very reliable. There every day. Never missed,"
Salinardi said.
Cosmo was one of the first 20 participants at Lifestyles when it opened in 1994, but he didn't come to program regularly. He was covering untold miles every day, collecting bottles and cans and stashing them until he could go cash them in.
But Salinardi was concerned about his health; so he made a deal with him.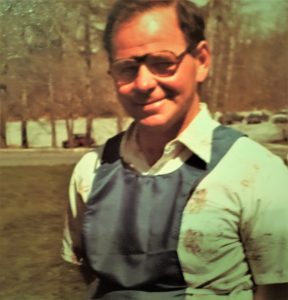 "The deal was he had to come in every day. He was diabetic. I told him 'All you have to do is have breakfast and lunch every day. That's the bargain. I'm not putting pressure on you. I just want you to eat properly,'" recalls Salinardi, concerned Cosmo was scavenging for meals.
Cosmo also joined Staten Island's Special Olympics team early on, said Joanne Certo, director of the Lifestyles Education Center in Concord.
"He particularly enjoyed track and field," said Ms. Certo, a founding volunteer with Staten Island Special Olympics in 1979.
HEART FULL OF MUSIC
Cosmo's participation at Lifestyles grew as he became a member of the Leisure Group, an enthusiastic participant in trips and a dedicated member of the LifeTones chorus.
Soon after he came to Lifestyles in 2014, Dr. David Dragos was introduced to Cosmo's talents and the legendary musical archive he had in his head.
"One day he came up and sang "I Left My Heart in San Francisco." He sang it beautifully," said Dragos who developed the agency's music program.
Cosmo's affinity for music was evident early. Salinardi remembers someone donating 45s to Willowbrook and Cosmo memorizing all the hit singles and the flip side.
"He knew every artist that sang in the 50s and 60s," said Salinardi.
For Stiland, decades younger than Cosmo, it provided an education in the music of the "Rat Pack."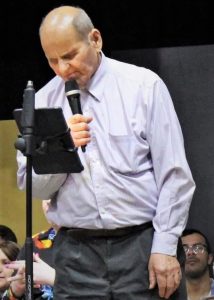 Dragos agrees.
"He was a great guy, cool guy. He was like one of those Rat Pack guys from the 50s. He had that kind of attitude," he said. "He was like a friend. We would hang out, talk about tunes. He was a lot of fun to be with, so much joy to be around."
Cosmo amazed Dragos with his memory for who wrote what and what year.
"He knew the American Songbook better than anybody," said Dragos.
With an age gap of nearly 30 years, Dragos said he treated Cosmo like his father.
"Participants, too really respected him. He was a senior figure, and there was always respect to Cosmo," said Dragos. "And a lot of applause for his songs."
One of Cosmo's favorites was "One for My Baby, One More for the Road" that Frank Sinatra made famous about a guy expressing his pain to the bartender in a "pour me another drink and I'll tell my story" way.
"He did everything in one or two takes," says Dragos.
WILLOWBROOK CLASS
With support from the AHRC agency, Cosmo lived in an apartment of his own. He prepared meals and staff was teaching him how to cook.
"He kept his diet. He knew what to eat; what not to eat," said Tatyana Rits, a DSP who worked with him. "At times he cheated, like we all do, but he knew what to do."
In addition to living with diabetes, he required kidney dialysis three times a week, but he came to program ready to work and kid around. He even came to LifeTones performances after a procedure and gave it his all.
"Even with dialysis, he never ever complained," said Ms. Rits.
As a former resident of Willowbrook State School, Cosmo was provided with both extra protection of his human rights and access to medical care to guarantee that the abuses of the infamous institution would not be repeated.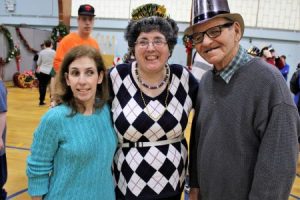 Arielle Bennett, a member of the Community Advisory Board (CAB) established to ensure those protections, has some fond memories from visiting him. He would often play his CD from Lifestyles holiday concerts, and he was "very proud to be part of the Lifestyles family," she said.
During one visit, they sat at his kitchen table talking about his upcoming birthday.
"I asked him how old he was going to be. He had three quarters and said 'to what does three quarters add up to?' I said '75,' and he yelled, 'BINGO! I'm going to be 75!'
"He was so excited for his birthday and always had a big smile on his face. He loved going to the casino and walking to the deli on his corner," she added.
Finally, she reflected on the "tremendous loss of losing him."
"He may be gone from our sight but never gone from our heart," she said.
'BEATIFUL, BEAUTIFUL'
If Stiland had one complaint about Cosmo, it was that he wasn't around enough. But now it wasn't due to his canning operation, it was the weekly dialysis sessions. However grueling they were, when came to program, he was upbeat and loved kidding around.
If he was invited to go with everyone to the bowling alley, he might at first decline. But, said Stiland, with the slightest encouragement – "You sure?" – he would agree with his signature phrase.
"Yeah, yeah. Beautiful. Beautiful."