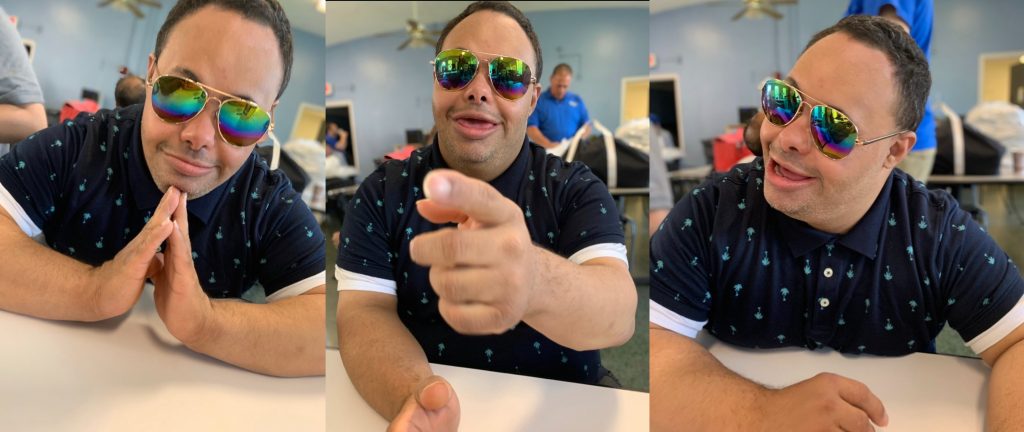 For someone who treasured his routines, Amir Samaan had a lot of tolerance for disruption, especially if it was his own good-humored mischief creating the havoc.
Seemingly everyone had a good time with Amir – his family, everyone at Lifestyles for the Disabled and at his Mount Loretto group residence, even the clergy at Archangel Michael and St. Mena, his Coptic Christian Church in Great Kills.
"He loved everyone and everyone loved him," said his eldest brother Dr. Ashraf Samaan.
At age 39, the beloved jokester was hospitalized with COVID-19 and died from complications on April 8, 2020.
The youngest of five siblings, Amir was born in Egypt and moved to the United States with his family when he was 17. Having Down syndrome, he enrolled in the day habilitation program at Lifestyles for the Disabled in 2001 after graduating from the Hungerford School.
Amir and His Family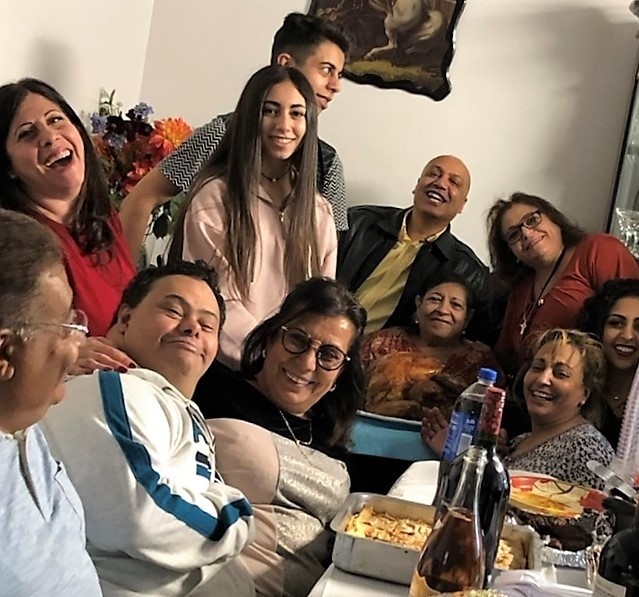 Image 1 of 17
Amir enjoys the company of his family: From left to right, Amir's brother, Ashraf and wife Nora; his sister-in-law Nahla (in red); his niece Miriam and nephew George; his brother Ayman; his mother Torkeia; his sister-in-law Mona; his niece Sylvia Abdelsayed and his sister Amany Abdelsayed. (Family photo)
GATHERED THE FAMILY
Every Sunday and holidays, Amir visited his mother and any of the siblings and nieces and nephews who were gathered there.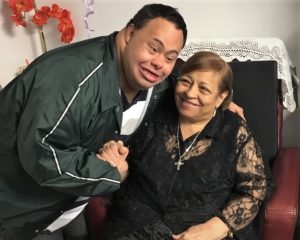 "Amir was the glue which gathers the family together," said his brother Ayman. "He used to ask about all the entire family, everyone by name. When he visits his mom he used to give her thousands of kisses."
As the youngest, Amir had a special place in his family. His sister, Amany Abdelsayed expressed the special place "Habibi" had in her life her devotion in this touching note:
Amir, Habibi, you taught me how to love unconditionally.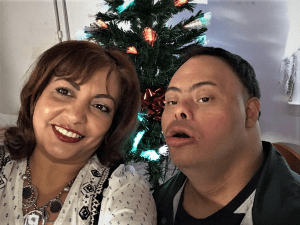 My youngest brother and my first love! I raised you, and watched you grow through every part of your life. You taught me how to be a mother before I became one. I considered you my son before I did my brother. I fed you, bathed you, took you out, and you became my one true love. I can't even begin to describe the endless memories that you've left me with, and the countless lessons you have taught in life. The most important one is to always forgive, to smile, put your heart before anything else in everything that you do, and for that I can't thank you enough. You gave the term "I love you" an actual meaning to me. My whole heart, always. Love, your only sister, Amany
Amir and his niece Sylvia Abdelsayed created their own ritual greeting in special handshakes which she recalls fondly among his other endearing ability to cheer people up when they are down.
Amir,
We sat for hours at a time once and created our infamous handshake #1 and handshake #2. I remember how much you laughed every time we would practice our 2 minute long handshakes, because we always messed it up at first. You loved them both and didn't know which one to greet me with every time you saw me. I would do anything to have one more handshake with you.
We would talk about all the things you loved the most — God, family, music, and dessert were your top four favorites. A pack of chocolate could've never missed your cravings. We would count how many times you would say it before we went on a mission to get you one.
The way you would yell my name and tell me to 'be nice ya baba' every time I said something unpleasant will never be forgotten. Neither will your sweet personality, that always put a smile on everyone's face. Every time I was upset at something you would sense it right away, and come close and give me a tight hug, which instantly would put me in a better mood. You did that to everyone who was upset, and gave them one of your sweet kisses on the cheek.
You were always the most happy with a new piece of technology, or any device that played your favorite music. I will remember you through your taste in music! Laughter was your favorite remedy, and cracking jokes was your way of life. Sylvia
NOT TO BE RUSHED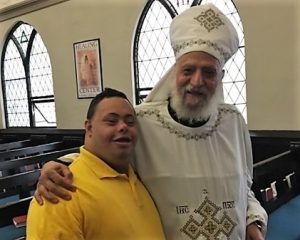 Amir was also "very committed" to the church at Archangel Michael and St. Mena, said his brother Ayman. He didn't like to stay in the back with the rest of the family; so he would go by himself to the front where he would respectfully follow the liturgy, standing and kneeling with the congregation.
"Even if we are in a hurry, he insists to stay to the end and give a big hug to the priests," said his brother.
At Thanksgiving, his brother recalls Amir's methodical arrangement of everything on his plate.The family was helping him with weight loss, so he agreed to smaller portions, but not to skipping any of the dishes.
"If we tried to skip one item, he would say, 'No, no, no, no, no. What is this? Serve this for me please,'" laughed his brother. "Then he would eat what he liked least and save all his favorites for last."
AmirSamaan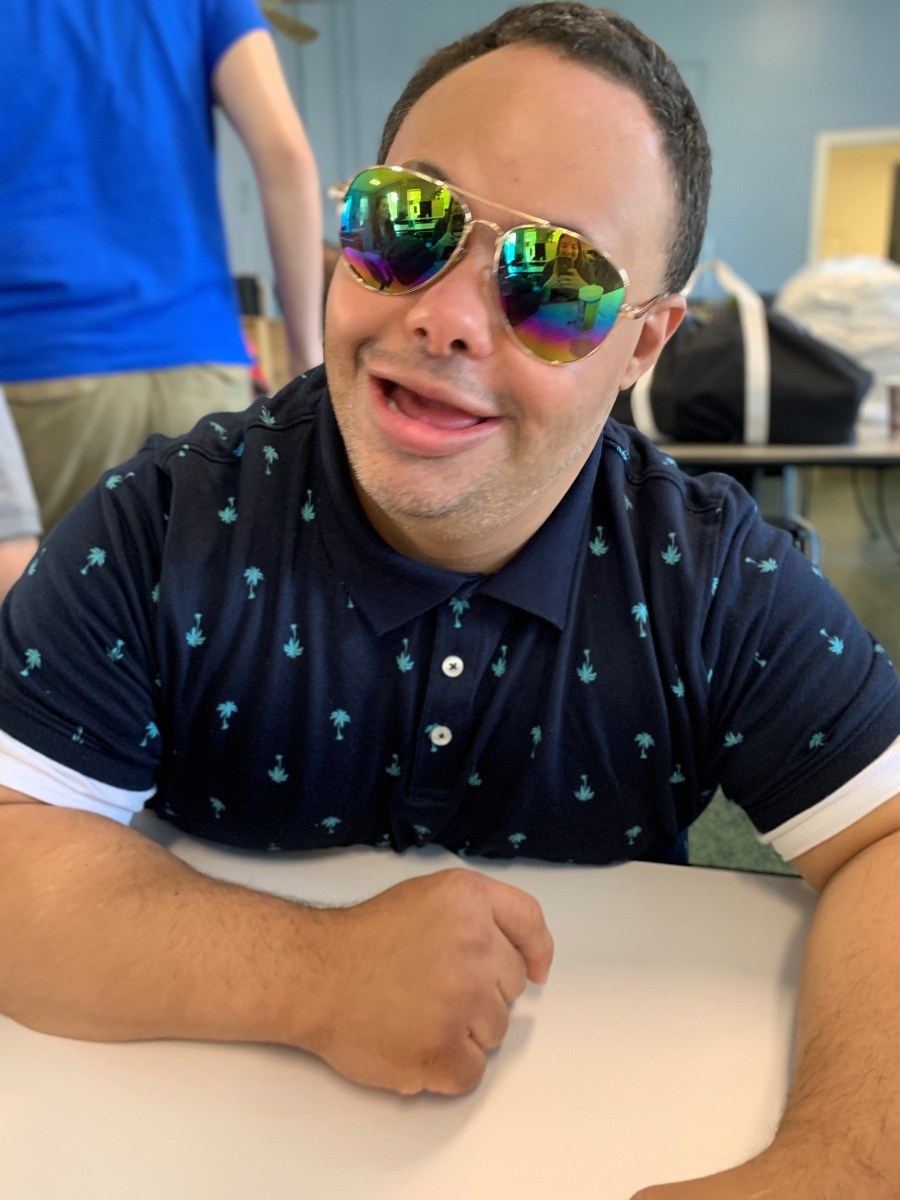 CREATE HAVOC
At Lifestyles Amir was part of the maintenance crew that cleans the lunch room and also provides a laundry service for Mother Mousse, a bakery in Travis, the Institute for Basic Research and Lifestyles.
"He was loving and caring, a good soul, always making sure staff was OK and always helping out the group," said Anna Sullivan, a day habilitation coordinator who was also Amir's case manager.
A stocky guy, Amir would point to his stomach and say "a beach ball," and chuckle. But he was as flexible as a dancer and amazed his peers and staff with his balance by standing on one leg while stretching to clean hard-to-reach spots. He also added comic relief to the day's activities by "running around and creating havoc" doing such things as giving make-believe haircuts, hiding and waiting to be found, and "borrowing" sunglasses.
"He would hide my lunch or waterbottle and then laugh when I found it," said Caitlin Buttermark who was a DSP with the Lifestyles Maintenance crew.
"But when we needed him to help with the laundry, he was always there. He knew when it was work time," said Sullivan. He would help sort and fold, carry out the bags, open doors. He also checked that everyone's shoe laces were tied.
SOCIAL BUTTERFLY
He loved making friends, says Buttermark, which made the trip to Mother Mousse one of his favorites.
"Not to pick up the laundry, but to talk to all of the staff. He loved them and they loved him, of course," Buttermark said.
But everyone has an off day and Amir is no exception. When he didn't want to clean, recalls Buttermark, he would sit cross-legged and encourage the others to do their jobs. Reminded that he needed to pitch in, he would say, "No, no. Not today. Not today."
Every Friday, he purchased lunch from the Lifestyles Caffe which he paid for each week.
"He would creep up behind us, throw his money on the table and yell, "Money!" laughed Sullivan.
He would smother the weekly treat in ketchup after it was prepared for him to the proper texture.
"He was the most caring person I ever met. If anyone got hurt, he always helped them. If there was any difficulty, he would calm people down and reassure them," said Sullivan.
"He could sense when you're off and give you that extra love," said Buttermark.
Amir was the same whether at work at Lifestyles or at his group residence.

ONE OF THE GREATEST
"Amir was the sweetest," said Julia Omovusi, a DSP who worked with Amir at his Mount Loretto group home. "When he saw you in the morning, he said 'Good morning' and asks 'How are you doing?', followed by 'love you' and a hug."
He was also helpful around the house, setting the table for meals and looking to help with cooking in the kitchen. He was attentive to details with the laundry, separating whites, folding and matching the socks together.
He was very caring with other people in the house too, especially his friends Nicholas and John for whom he would do special favors and they enjoyed watching cartoons together.
"He was one of the greatest, I'm telling you," said Omovusi. "That's why it's so heartbreaking." Saturday was for bowling, and every Sunday was "Mama's house." Once he tried to sneak a whole chocolate cake into the group home after visiting his family one weekend.
SURVIVORS
"We have a lot of good memories of him," said Ayman. "Amir, my brother, RIP."
Amir's mother Torkeia Samaan died seven months after him in December 2021. His father, Boshra Samaan predeceased him. He is survived by his sister Amany Abelsayed (Ehab); his brothers Dr. Ashraf (Nora), Safwat (Mona) and Ayman (Nahla); and his nieces Sylvia Abdelsayed, Angela, Amanda, George, Miriam, Sylvana Samaan, and nephews Peter Samaan and Kyrollis Abdelsayed.