Coletta Lurlean Bailey was a woman on the move. Tall and stylish, she was often at the center of a group of friends having a good time. Depended on for her honesty and humor, she had strong opinions about what she wanted and didn't hesitate to try something new or advocate for something better. She played on a championship softball team, switched high schools for more opportunity, took steps to live independently, and worked at a variety of occupations.
"I always told her, you can do anything you want to do if you put your mind to it and work hard," said her mother Shirley Bailey. "And that was her attitude – 'You cannot tell me what I can't do.' "
Born on May 26, 1971 in Queens, Coletta was diagnosed with myotonic muscular dystrophy at an early age. A degenerative condition, it would affect her mobility and her intellectual development, but not limit her determination to live a full life.
She was participating in programs at Lifestyles for the Disabled and living in a group home in New Dorp when she contracted COVID-19 and died on April 25, 2020, just shy of her 49th birthday.
For about nine years, Coletta lived in Florida where she broadened her work experience with the help of a job coach. Mrs. Bailey also remembers sharing so many good times – pizza and Chinese nights, movie binge-watching, cruises, eating out and lots of laughs.
Among her cherished memories are when Coletta reversed their roles and gave her guidance. Getting oriented to the Tampa Bay area, they would enjoy driving around, but inevitably get lost. When there was something pressing to do, Coletta would advise, "Mom, we don't have time for one of your adventures. Please don't take any roads if you don't know where it goes."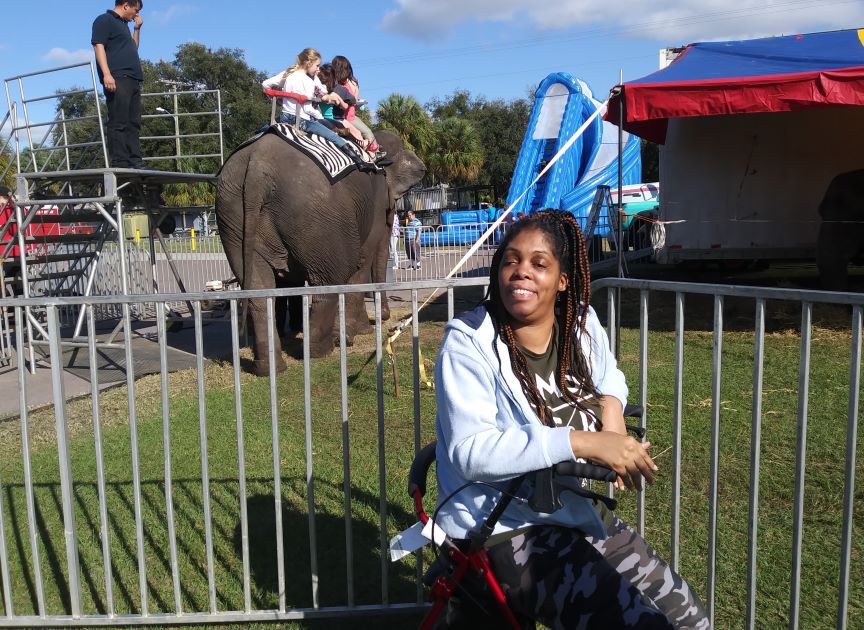 LOVE OF LEARNING
"From a young age, Coletta exhibited a love of learning," said her mother.
School provided a chance to learn and try new things and to share her knowledge.
"Coletta was sweet and very helpful with her peers," said Kristina Collins, a senior habilitation specialist with Lifestyles for the Disabled.
Coletta's education began in Queens at a private K-12 school through the Department of Education. When she moved to Staten Island, she enrolled in Susan Wagner High School, but soon transferred to the Hungerford School where she could work on the school paper and join the cheerleading squad. She became co-captain, one of many signs of her leadership skills, and graduated in 1992.
"Coletta was resilient, courageous, wanted to try everything," said her mother. "If you said 'No,' you better have a good explanation why."
PURSUING GOALS
Following her graduation from the Hungerford School, she attended Community Resources Staten Island where she received vocational training and experience with assembly lines and quality control.
From 1995 to 1996, she worked at ShopRite as a clerk assisting cashiers. While there she stepped up to suggest to a manager that the clerks who wore aprons should wear the same jackets as the cashiers since they were also frontline employees. The manager agreed, and the uniforms were changed.
In 1995, Coletta was part of the Special Olympics Staten Island Girls Softball Team. Known as the Staten Island Angels, they went to the World Games in Connecticut and brought home a silver medal.
In 1996, Coletta made the move to join her mother in Florida and begin a stretch of employment and volunteering. Her resume includes volunteering at a Head Start program, assisting with activities such as circle time, and arts and crafts. At a McDonald's she worked as a lobby clerk and at a Publix Supermarket as a front end clerk, assisting cashiers.
LURE OF NEW YORK
Coletta made new friends, but the connection to New York pals, including a significant romantic interest, and the vibe of the city remained strong. The pull to New York prevailed, and she returned in 2015 to pursue her goal of living independently.
"I remember us getting frustrated with each other mostly due to your desire for independence versus my desire to keep you safe and make you perfect, even long distance," is a memory Mrs. Bailey shared at a memorial for Coletta.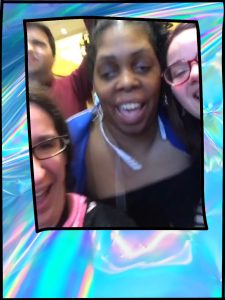 Monitoring her progressive disease was lifelong, and some symptoms worsened after returning to Staten Island. Weakened eye muscles affected her depth perception and balance problems developed. Assessed at the NYU Neuro Muscular Clinic she began using a cane and then a rollator to avoid falls.
LIFESTYLES FRIENDS
She enrolled at Lifestyles for the Disabled where she gravitated toward creative programs in Music, Social Skills, Fine Arts, Creative Arts and Ceramics as well as Social Skills. She was also able to re-connect up with old friends and make new ones among participants and staff.
"Coletta was sassy – spunky and honest" remembers Vanessa Whitehead, a habitation specialist with Creative Arts. "She was not afraid to share her opinion whatever it was."
Whitehead cherishes the memory of Coletta coming to her desk every morning, putting her walker aside and making her way over to lean against the radiator for a chat. Subjects of their chats ranged widely. Coletta had a number of significant relationships, and their last girl talk was about a painful breakup.
"Coletta had an eye for fashion," said Whitehead. "She always had great sneakers, matching outfits, very coordinated and fashionable."
"She was really into making jewelry. She gave them as gifts and sold some of them. She also did portraits of staff and gave them to them," added Whitehead.
GIVE IT A TRY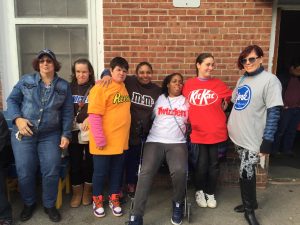 Loads of Fun, a group that participated in a variety of activities from crafts to dance, was another of her groups.
"She was never that person to use her disability as an excuse," said Stephanie Distefano, a DSP with the group.
When the group was exercising outdoors on tricycles, Coletta was adamant about wanting to give it a try.
Her balance issues made DiStefano hesitant, but Coletta's persistence convinced her.
"If it doesn't work out, it's OK, but at least I'm trying," she remembers Coletta saying. After she successfully swung her leg over the seat, she just couldn't get positioned for the pedals. They realized with a laugh that she was just too tall for the trike.
"But she really appreciated being given the chance. She thanked me more than once. She always wanted to try and do her best," said Distefano.
FROM A DISTANCE
After the move to New York, Coletta maintained the support and fun of the relationship with her mother through phone calls. The two spoke every day, sometimes twice a day. In addition to reporting how she was doing physically and the process of obtaining supported living, they shared how their day went and sometimes watched a TV show together. Deciding whether to return to Florida was being considered.
"I wanted her living this life of not worrying about what you can't do; focus on what you can do," said her mother.
SURVIVORS
An only child, Coletta loved spending time with her cousins and friends who regularly came to visit.
Coletta is preceded in death by her father, Noel Bailey; grandmothers Lurlean McKinney and Florencia Bailey; uncles Enrique (Rickey) McKinney and Mario Bailey; and aunt, Joyce McGregor. In addition to her mother, Coletta is survived by her grand-aunt Queen Charlotte Taylor; aunt, Cynthia Bailey; godmother, Mae Vincent; god-sisters and god-brothers Eudowa, Neithra, Noche, and Fritz Vincent; first and second cousins Maxine and Antonette McGregor, Melinda McKinney, Lurlean Rose McKinney; Yaru, Mario and Cyndria Bailey; Darwin, Sandra and Jessica Mulgraf; Ruperto, Maria, Elena and Tito Anglin; Emilton and Rosalba DeGarcia; Pamela and Lawrence Anglin; Leonidas Phillip, Eduardo Valdelmar; Nena, Ebony and Michael Arlain; Alize, Anaiah, Amir, Courtney, Donna, Loraine and Pauline McKinney; best friends Susan Castellano, Keriann, Stanley Hills, Scott Pedro and a host of third cousins and friends.