Our local champion, Douglas Patterson, show his endurance and tenacity as he won gold and bronze medals at the 2022 Special Olympics USA Games held last June in Orlando, FL. He took the gold medal for the triathlon and for good measure grabbed the bronze in the open swim as well.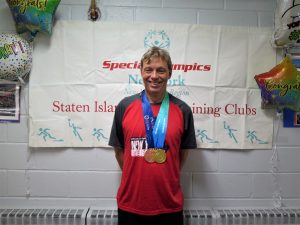 Doug, a lifelong Special Olympian, credits hard work to his gold medal win. By clinching each of the three legs of the competition, swimming, biking, and running, Doug bested the competition. He told Life-Wire's Anthony DiCostanzo, that coming off the swim, his coach told him to hurry up and get on the bike because he was in first place. After cycling, Doug's coach again prodded him on saying he was still in first. When Doug came back with the bike, his coach said, "You're still in the first, come on. You still gotta' go. You got this!"
Doug's total time in the Triathlon was just 1:29:48, an event that includes a 440-yard swim, 10.8 mile bicycle race, and 5k run. Of the Triathlon, Doug told Life-Wire's Joseph Jones "it was a great way to cap off a week of events."
Doug's bronze medal time in the 1000m open swim was 32:42.
Please enjoy our interviews with Doug below: