Those were not pirate ships in New York Harbor, this September. Those are the two tall ships from South Street Seaport – The Peking and Wavertree, both taking their turns at Caddell Dry Dock for repairs. One ship is done the other one is being repaired. One has returned to South Street the other is taking a long voyage.
Here are their stories in a list of comparisons:

1.The Wavertree was named after a district of Liverpool, England and the Peking was named after a city in China.
2. The Wavertree has been restored and is now at South Street Seaport, service as it's main attraction; The Peking is currently at Caddell, and when it's restored it will be donated to Germany, where it will remain at Stiftung Hamburg Maritim, a maritime museum.
3.The Wavertree was made of wrought iron in 1885, making it one of the largest surviving wrought iron ships afloat. The Peking is a steel-hulled ship, a barque with four masts. It was one of the last of the windjammers.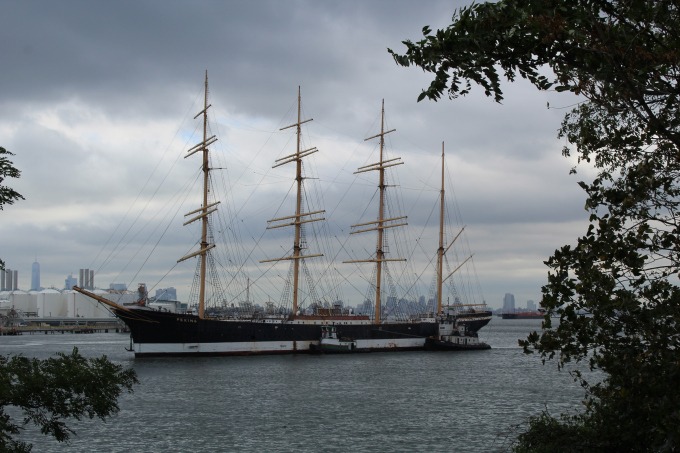 4.The Peking came to South Street in 1975. The Wavertree arrived in New York in 1969.
Today is the first day that the Wavertree is open to the public in its new berth. South Street Seaport Museum is open 7 days a week in Lower Manhattan. Visit the Seaport's website for details.
Steven Filoramo, Andrew Moszenberg, and Gregory Perosi with Edward Gregory.

Wavertree photos:
Peking photos:
Read more at the following links:
New York Times: Seaworthy and Ready for an Early Unveiling.
Staten Island Live: Wavertree Returns to South Street Seaport Museum.
DNA Info: Historic Wavertree Ship Returning to South Street Seaport.
The Gothamist: German Ship Peking Will Leave the South Street Seaport After 40 Years.
Old Salt Blog: Windjammer Peking Returning to Hamburg.