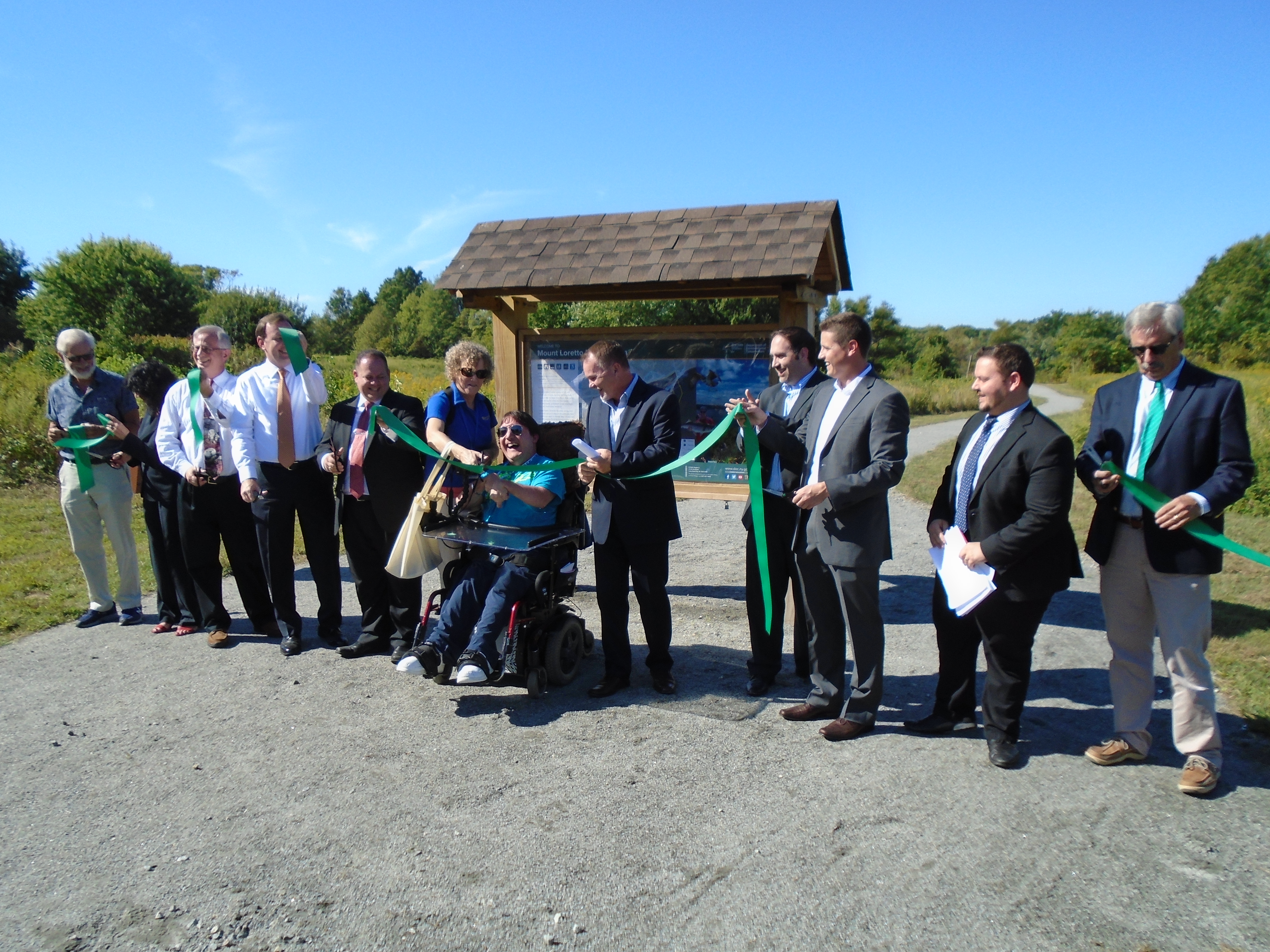 On a clear and warm first day of Autumn, Joseph Padalino cut the ribbon to new accessible
trails at Mount Loretto Unique Area. Flanked by the politicians and officials who made it all possible, Padalino let out a whoop of delight.
"I think it's a very good park for people with disabilities like me," observed Padalino, who uses a wheelchair. "It's a very tranquil place to meditate. People feel at peace in that park."
Padalino attended with a contingent of participants and staff from Lifestyles for the Disabled, one of a number of organizations represented, including Protectors of Pine Oak Woods and the Independent Living Center.
"When we build a trail to be accessible, it's for everyone," Carole Fraser, Universal Access Coordinator for the Department of Environmental Conservation (DEC), told Padalino. "It isn't only for people with disabilities, it's for people with small children in strollers. It's for older adults and everyone to come and enjoy these spaces together. Everyone can come and be more accepting of each other."
Steve Zahn, Regional Director for the DEC, thanked State Assemblymen Ron Castorina, Jr. and Michael Cusick; Ed Burke, Staten Island Deputy Borough President; and NYC Parks officials for their efforts to improve the Pleasant Plains park.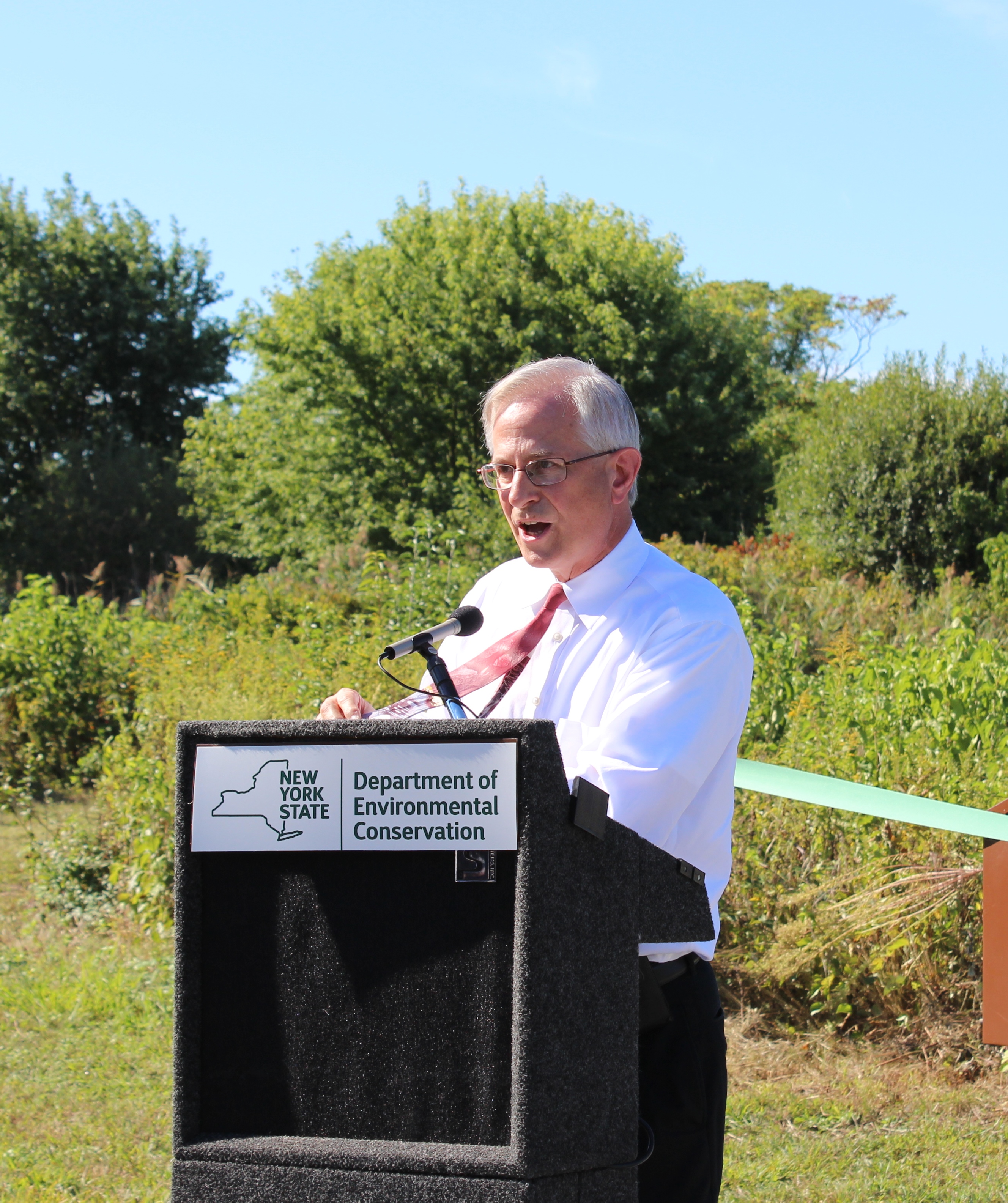 The festivities took place on a long, wide gravel path flanked by mowed grass and goldenrod. The program was followed by a walk down the path to a deck on a bucolic pond where everyone can enjoy the ducks and, when there is more water, some fishing.
"Did you know that Staten Island has 12,000 acres of parks and natural areas," Burke told reporter Anthony Pabon. "That's a third of Staten Island. So we've done a great job of protecting parkland and natural areas like this."
In addition to the trail at Mount Loretto, improvements in access at New York State parks in the area also include amenities at Butler Manor Woods, North Mt Loretto State Forest and Lemon Creek.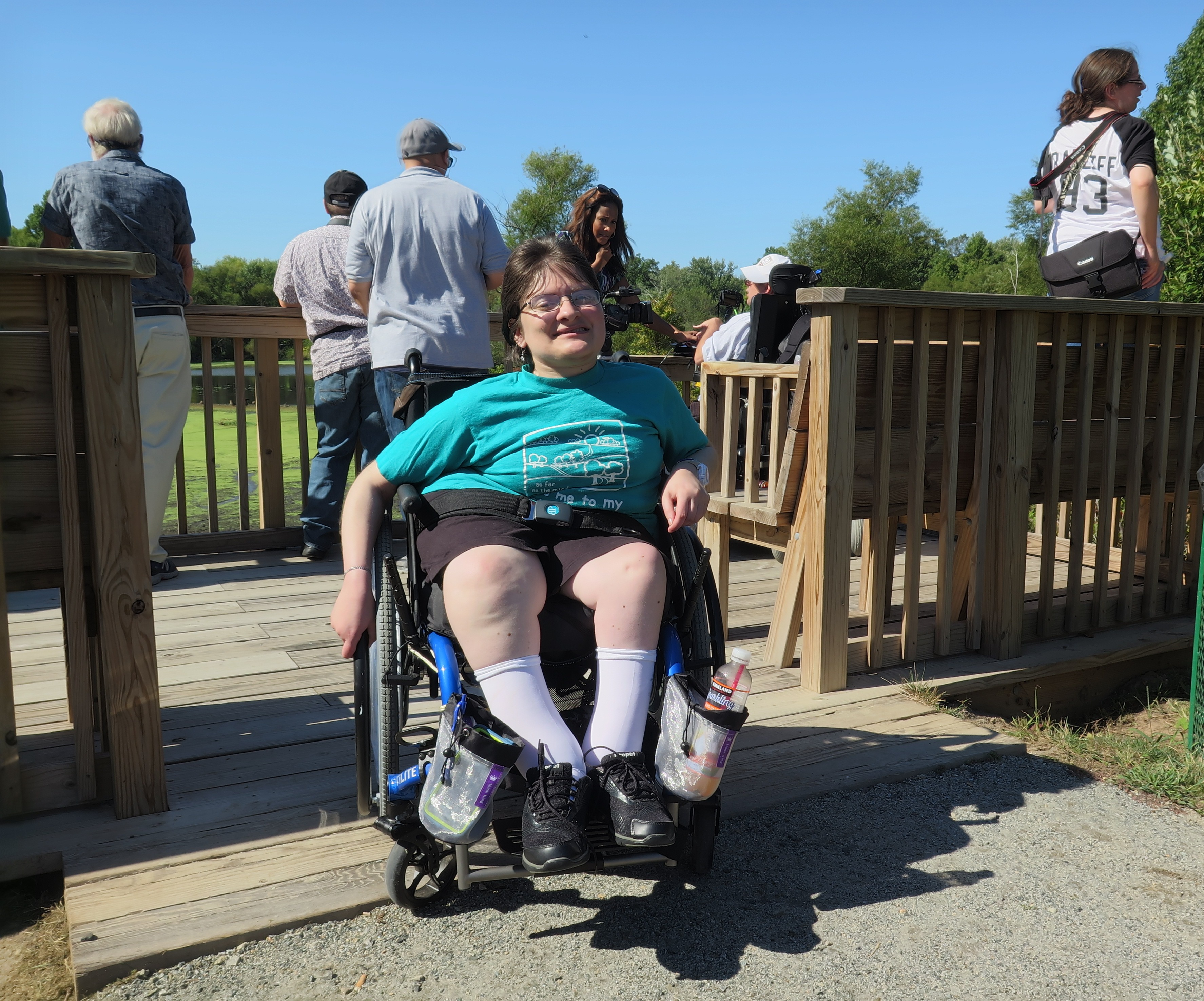 "We have everything here, deer, raccoon, woodchuck, skunk," Ray Matarazzo of the Protectors of the Pine Oak Woods told reporter Rachel Chernock. "The big thrill of the day was the bald eagle. They're always soaring overhead."
Mount Loretto Unique Area is at 6450 Hylan Blvd. on Staten Island. Call 718.482.4942 for information.
Rachel Chernock, Anthony DiCostanzo, Anthony DiFato, Kareem Ellison, Steven Filoramo, Anthony Kefalinos, Andrew Moszenberg, Anthony Pabon, Joseph Padalino, Dolores Palermo, and Gregory Perosi with Kathryn Carse and Edward Gregory.
Read "A facelift for state lands: More accessible trails, walkways, parking" at SILive.com.
Watch "Department of Environmental Conservation Improves Access to Parks on Staten Island" on NY1.com.