The unique relationship between Koko, a western lowland gorilla who can speak sign language, and Penny Patterson, the psychologist who taught her to sign, is revisited in-depth in a new PBS and BBC documentary called Koko − The Gorilla Who Talks, premiering Wednesday, August 3 at 8 p.m. (Check local listings.)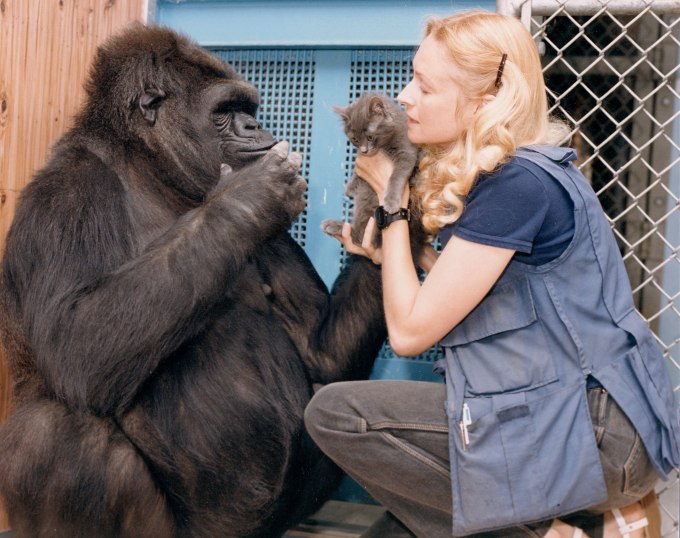 Koko is a female western lowland gorilla, born on July 4, 1971. The name Hanabi-Ko, meaning "Fireworks Child" in Japanese, was selected as the winner of the "name the baby gorilla" contest at the San Francisco Zoo where she was born.  That is where she began working with Patterson, who moved Koko to Stanford, where she later set up the Gorilla Foundation.
Koko − The Gorilla Who Talks gives viewers a behind-the-scenes look at the unconventional life of the world's most famous gorilla," said Pamela A. Aguilar, Director of Programming and Development for PBS. "Through new footage and rarely seen photos and videos, the film reinvigorates our fascination with Koko and the relationship Penny first established between animals and humans more than 40 years ago."
Koko is amazing. She listens. She knows what she wants. She is very lovable. She is very calm with Penny and she wants to learn so much.
If I was Koko, I would like to learn as much sign language as I could so I can impress people. According to Patterson, Koko learned over 1,000 signs.
Project Koko started as Patterson's Ph.D. assignment to teach sign language to a baby gorilla. As Koko began to communicate with Penny, an intense bond forms between them. Over four decades, the teacher is transformed into a mother figure and student into a daughter figure. The public's fascination with Koko made her a star.
The documentary captures some of the dramatic moments of Koko's life including Penny's battle to keep Koko from being reclaimed by the zoo where she was born, Penny's clash with experts who doubt her success with Koko, the founding of The Gorilla Foundation, and the image of Koko mourning the death of her kitten – a moment that bought her international fame.  
Finding a mate for Koko is one of the conflicts in the story. You could tell Koko would like to be a mother. She had kittens and she was very gentle with them.  She loved the cats. One of them got run over by a car and she was very sad. She was as distraught as a human would be. A children's book, "Koko's Kitten" is written about the special bond and is published around the world.
The zoo wanted to take Koko back. They wanted her to have a boyfriend, but she had a difficult time mating with another gorilla.
I didn't like the part when they said Penny had to give Koko back to the zoo because Koko loved Penny like a mother.  They knew each other for years. If Penny didn't care for Koko, she would not have dedicated her life to teaching her.
The whole controversy could be avoided if Koko could speak because then Koko could say what she wanted to do. Koko was misunderstood because some people are ignorant and don't understand that animals have feelings just like a human does.
If Koko had been taken away, the project would have stopped and Koko probably would have gotten sad or depressed.
Including the controversies made this a better documentary. If they cut parts out it would not be good for the show. If they didn't have a little sadness or difficulties, people wouldn't watch because it wouldn't be realistic.
In order to keep Koko, to provide shelter and other gorilla companions,  Patterson began The Gorilla Foundation. It helps to continue Patterson's research and teach people about gorillas so that they are appreciated. You can visit them on their Koko & The Gorilla Foundation Facebook page as well.
-By Joseph Padalino, with Kathryn Carse for Life-Wire News Service.
Watch the PBS preview:
And watch more clips here. at PBS.
Photos courtesy of (c) 2015 The Gorilla Foundation/Koko.org. Photo by Ron Cohn.