Whether it was a chance to chat over a cup of coffee, a trip to church or a casino, or making music together, Grace Valdez made connections with people that left them with a lasting memory .
"She was funny and smart," said Kristina (Teena) Collins, a senior habilitation specialist since 2014 with Lifestyles for the Disabled where Valdez was in the day habilitation program. According to Collins, a book of word searches was always in Gracie's bag and scoring a cup of coffee or a soda was almost always on her mind.
Valdez died suddenly on March 28, 2020. The 56-year-old lived in a Community Resources group residence in Tottenville.
"Gracie, I miss you very much. I love you very much. I buy you soda all the time. I pray for you at nighttime," said Angel Hoyt, a friend and housemate of Valdez's who also attends Lifestyles.
Photos show Valdez enjoying the company of others with a twinkle in her eye and an impish smile. She sometimes spoke with a lisp when she didn't have her teeth in, which was often enough, because she didn't really like them. But she took pride in her eclectic style, especially on concert days.
A RICH LIFE
As a former resident of Willowbrook State School, Valdez was provided with both extra protection of her human rights and access to medical care to guarantee that the abuses of the infamous institution would not be repeated.
"Although her start in life was difficult, she was able to live life to the fullest on her terms," said Barbara Bishop-Lewis, director of quality improvement at Lifestyles.
"She pulled at my heart strings" added Bishop-Lewis, who was also Valdez's residential supervisor for years.
Some time after living in Willowbrook, Valdez married and lived with her husband in the Bronx.
"Grace loved to stop by my office and talk, telling stories about her past — being married, living and working in the city, nightlife," said Collins. "Of course, she always got herself a cup of coffee when she stopped by."
Valdez divorced and eventually "returned to the system" when she went to live in a Multiple Disability Unit, a state run program on the grounds of South Beach Psychiatric Center.
ADVOCATED FOR HERSELF
As more personal living accommodations evolved for people with intellectual disabilities, Valdez moved to a Community Resources group home and began day habilitation programs at Lifestyles for the Disabled. There she joined the Leisure Group where many of the participants were older people who were also part of the Willowbrook class.
"But once she saw the routine of the CAP group in the community, including coffee two times a day, Grace wanted to be in it," said Collins director of CAP (Community Activities Program).
Though she was not officially a self-advocate, Valdez could be single minded and savvy in pursuing what she saw was best for her.
"I need to be in that group, to be in an active community group," she said.
GRACIE'S BLUES
When Dr. David Dragos joined the staff in 2014 to create a music program, Valdez found her next pursuit.
"She was a great musician. I would tell her to paint freely; there were no wrong notes. Whatever you feel, do. And she would," said Dragos who composed "Gracie's Blues," a piece for Valdez.
James Verteramo, support staff who teaches percussion, said Valdez was ready to try anything and the xylophone became a specialty. Her performances were a highlight of the Lifestyles concerts.
"She was a spark plug for the music program. She would be in on everything. She got the guys going," said Verteramo.
She was also always ready to sing — solo or in the chorus.
"When she sang, she reminded me of Stevie Nicks [Fleetwood Mac]. Her arms would go out like she was floating on air," said Verteramo.
From "So What" by Miles Davis to "Because He Lives," a Gospel tune and "Let there Be Peace on Earth," Valdez loved to both play and sing.
SPIRITUAL AND DOWN TO EARTH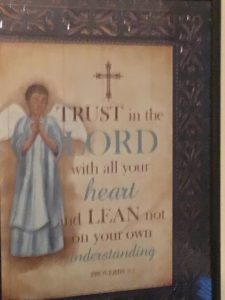 "Gracie was very religious, " said Dragos. "I have a card she gave me with a quote from Proverbs — 'Trust in the Lord with all your heart and do not rely on your own understanding.' I have it on my piano, and I think of her whenever I play."
At home, her Christian devotion was also evident.
"She had a Bible, angel statues and a rosary," said Nichole Draper, the team manager at the Tottenville residence. "She attended church regularly, but she was not particular about the place. Staff would bring her to local churches or she would go to theirs when invited."
Valdez balanced out her piety with some earthly pleasures. In addition to coffee and soda, she "loved her Disney" and casino day trips, according to Draper.
"Last time she went to the casino she won money, and we definitely planned to go back," said Draper.
"Frozen" was a bit of an obsession, especially her favorite character Olaf. She had a plush toy version, a blanket and had to have any Olaf-related tchotchkes.
NO SUGAR COATING
To know Valdez was to know what she was thinking.
"She would say, 'You know Nichole, if I didn't like you, you would know it.' And I had no doubt about that," said Draper.
It was a trait everyone grew to expect and appreciate.
"Good, bad or indifferent, you heard it from Grace," echoed Verteramo.
"She could be cantankerous. But I liked her because she was so feisty," said Bishop-Lewis. "As cranky as she could be, she was sweet and loving."
In the end, it all came down to what everyone wants.
"Although she could be difficult, if you respected her by giving her a reason she could understand, she was reasonable," said Bishop-Lewis. "At the heart of it, she wanted to be treated like everyone else — with respect.