Good afternoon, Lifestyles For The Disabled.
Today, I honor one of the greatest musical sensations & role models of all time, Jackie Evancho.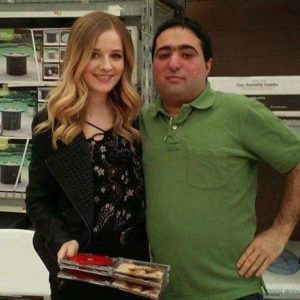 She turns 19 years old today.
Jacqueline Marie "Jackie" Evancho was born on April 9th, 2000 in Pittsburgh, Pennsylvania. She finished 2nd to singer, Michael Grimm on NBC's "America's Got Talent" at age 10 in 2010. After that, Jackie rose to fame and became the youngest solo artist to go platinum.
Jackie had performed for two U.S Presidents, Pope Francis, the Emperor Of Japan, and much more. Jackie hd also duet with famous stars such as Andrea Bocelli, Susan Boyle, Il Volo, Placido Domingo, Barbara Streisand, and much more.
Jackie supports the Humane Society, saving the seals, and much more to make the world a better place. She loves and adores children, treats them very well, and encourages them to follow their dreams.
In 2017, Jackie unjustly received backlash over her decision to sing at the 2017 Presidential Inauguration. Jackie spoke out against the backlash saying that her performance was apolitical, and that she's only doing it for the love of her country. Many stars backed out, but Jackie sang anyway, ignoring the cyberbullies threatening her on Social Media.
Jackie defends her sister Juliet from being bullied and set the perfect example for everybody of defending the ones you dearly love. Jackie always says, "You will always have haters", and most importantly, "Love yourself."
Recently in 2019, Jackie spoke out about her battle with anorexia and body-dysmorphia, and inspired many others whom have the same struggles.
I was lucky enough to meet Ms. Evancho in 2017, and took a photo with the same said artist.
Jackie Evancho will always be one of the greatest role-models and singers of all time, and that "Big things do come in small packages"! We at Lifestyles For The Disabled proudly wish Jackie Evancho a Happy 19th Birthday, and all the best for her stellar music career.
Thank you, God Bless you, and God Bless Lifestyles For The Disabled.
-Larry Oliveri
For more about Jackie Evancho, visit her Website here.