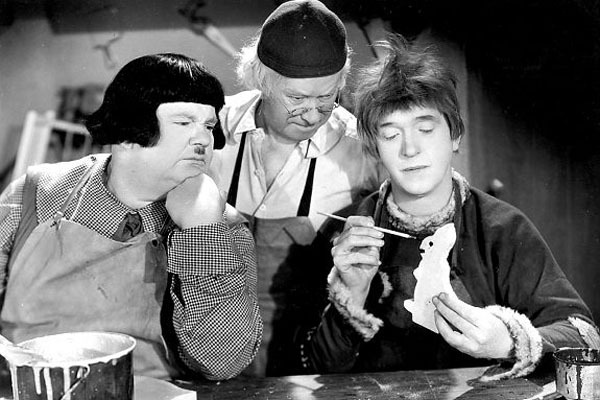 The 1934 version of "The March of the Wooden Soldiers" is an annual holiday treat for the whole family. Also known as "Babes in Toyland," the black and white classic will be shown on Christmas Day from noon to 2 p.m. on WPIX 11.
Stan Laurel and Oliver Hardy star as Stan Dee and Ollie Dum. They live with the Old Woman in the Shoe and are trying to save Little Bo Peep from marrying Silas Barnaby, the heartless landlord. In the end everyone unites with the Wooden Soldiers to fight him and the Bogeymen.
The plot involves a comical misinterpretation of Santa's orders – just part of the many laughs for all ages provided by slapstick and hilarious punchlines. Music, nursery rhyme characters, including Mother Goose, and a rousing community spirit add to the movie's appeal for kids and adults.
"Watching a classic movie together provides great memories," says Sal DiBenedetto.
"And you learn to never turn your back on a cannon," adds Anthony DiFato.
– Sal DiBenedetto, Anthony DiFato, and Sam Stone with Kathryn Carse.
https://youtu.be/PwiGqvnIFqs