While Hurricane-turned-Tropical-Storm Jose is making its moves in the Atlantic, it's making its presence known along the coast with high surf and riptides.
It won't be coming here, Andre Fitzgerald assured us. It's going north and turning east. Rain here, but more in Long Island tonight.
We decided to go to the beach and see for ourselves what if any effect it was having on Staten Island. We headed for Gateway National Park Area at Great Kills. We drove past the harbor and down to the last parking lot between the beach house and Crooke's Point.
"The breeze is right into your face. It's what I like," said Kevin DiStefano who spread his arms and let out a hoot when he arrived.
"It's not a day for a book and a flask of tea. This is a hold onto your stuff for dear life day," observed Anthony Difato who nonetheless had book in hand.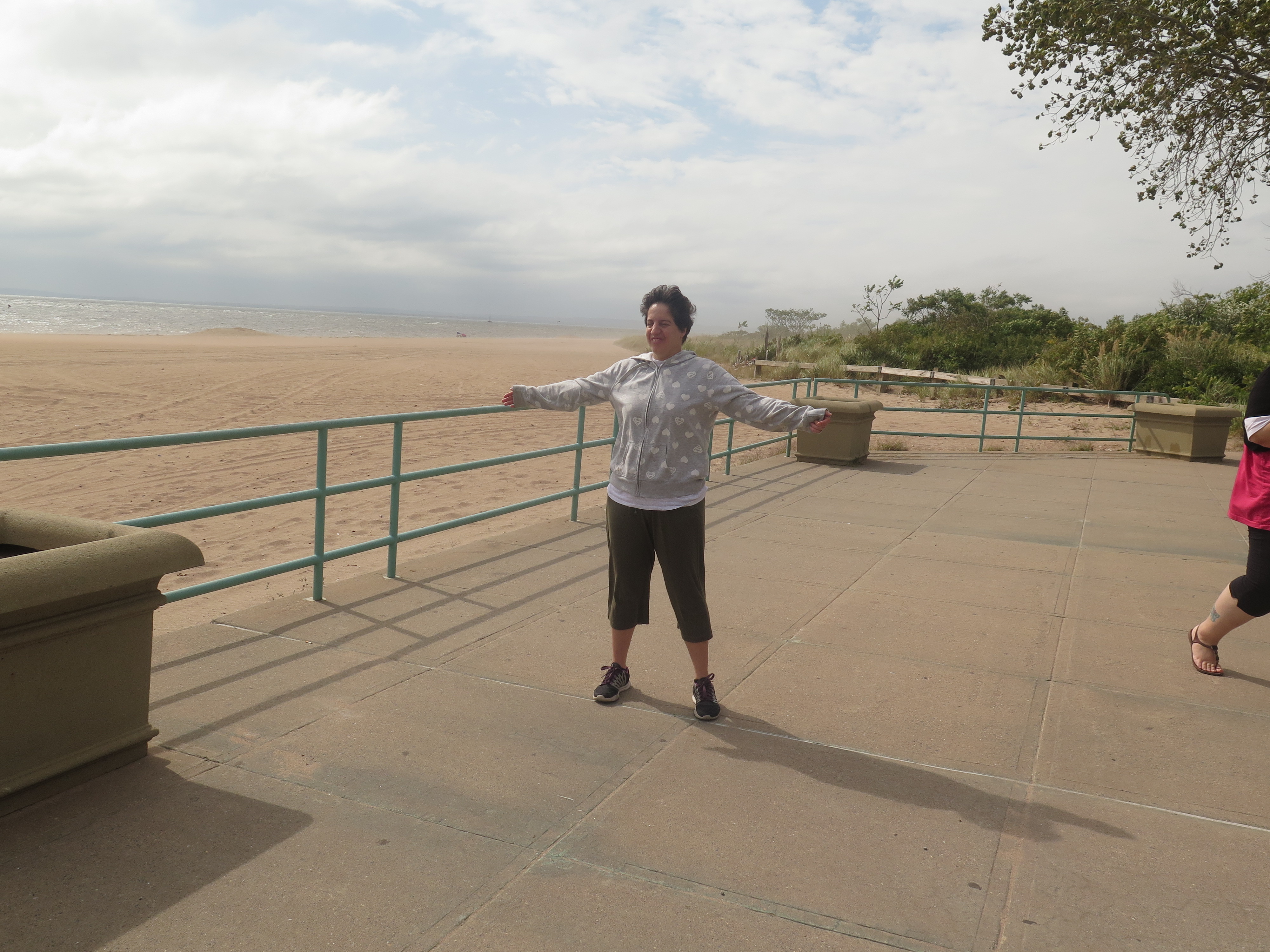 Joe Maturi, Media Dept. supervisor, started to head down to the water with Kevin and Tim Fauske. They didn't get far before a mini sandstorm arose.
"A bunch of sand started blowing hard," said Tim. Through the fuzzy scene we could see a pair doing yoga at the water's edge. "It was hard to take a picture," said Riki Garcia.
Luckily the sand whipping around didn't last long. But Jose's reach could be seen in the choppy water and white caps, the dramatic clouds and the blowing leaves and grasses.
"That looks really rough. I wouldn't go out in that water," said Joe Trischitta when he saw the photos back in the Media Room. He does quite a bit of boating. And in fact, there were no boats out, even the gulls were hunkered down on shore for awhile. The rain hadn't moved in yet though, so the sun, clouds and grey and silver water made for a beautiful and relaxing place to be.
We weren't the only ones. In addition to the yoga pair, there were a couple of dog walkers, a cyclist and a rollerblader to name a few.
All in all it was a good nearly end of summer day. Enjoy the breezes and the clouds, which have been joined by the rain now as Jose passes by.
Kathryn Carse with Anthony DiFato, Kevin DiStefano, Tim Fauske, Andre Fitzgerald and Riki Garcia. Joe Trischitta and Joe Jones who were not with us at the beach also helped shape the story. Photos by Riki, Harry Rodriguez and Jenn Romano