On a hot day toward the end of August, a group and their staff decided to head off to one of the famous summer destinations in New York.
Coney Island.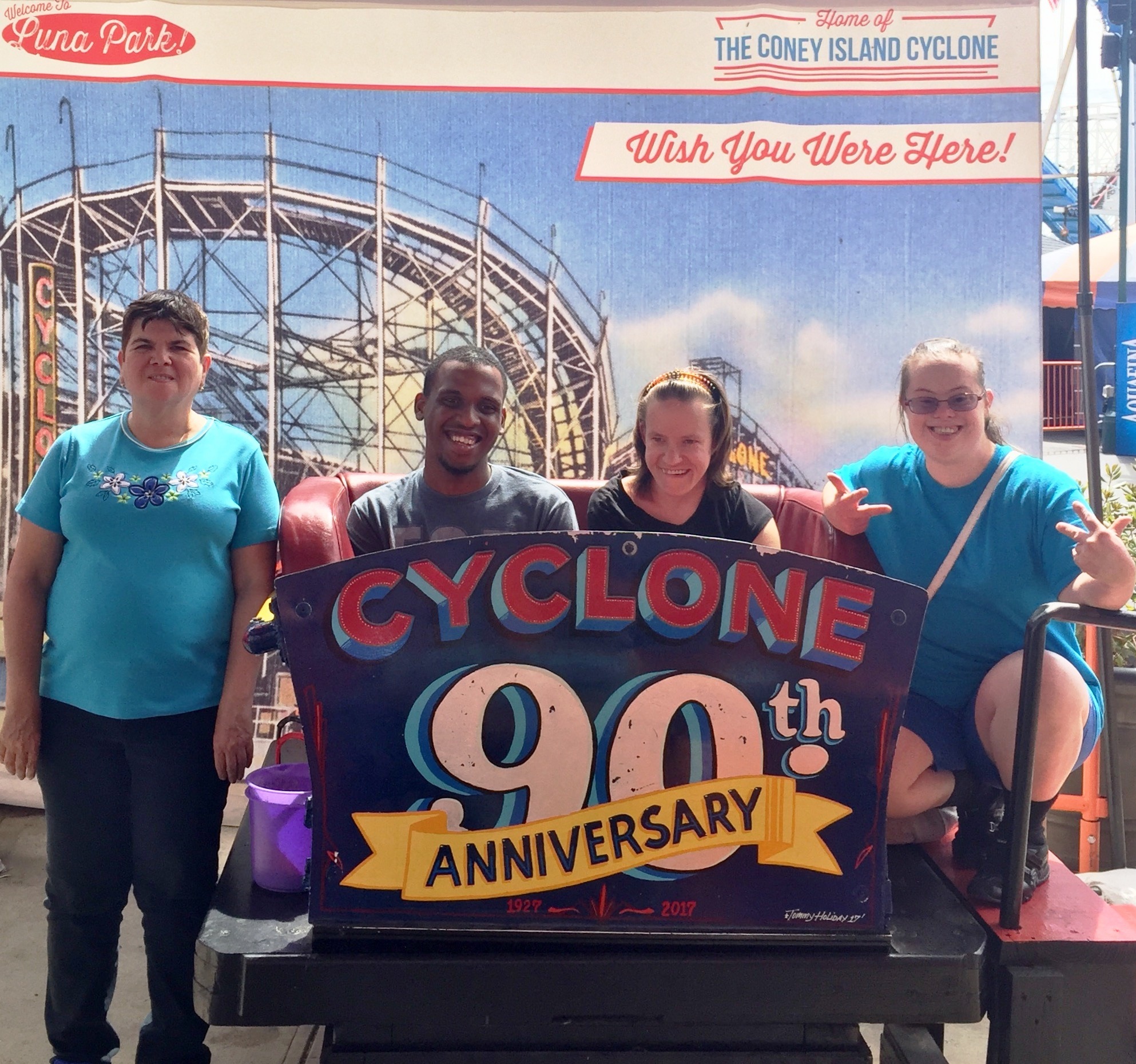 "I loved it," said Janet D. "I want to do it again."
She and Kamila B came to the Media Department to be interviewed about the trip that also included Becky C and Chris K along with staff Stephanie DiStefano and Patricia Salemmo.
And if Brooklyn's world famous beach side amusement park wasn't enough, the anniversary of its equally world famous roller coaster, The Cyclone, was being celebrated.
"It sounded like a train," said Janet.
"Because it's made out of wood," added Kamila.
They saw a lot of excited families and tourists, some speaking foreign languages, all lining up for a ride.
No they didn't take a ride, this excursion was exploratory only – they took in the rides, the boardwalk, the beach scene and they stumbled upon a cool art exhibit.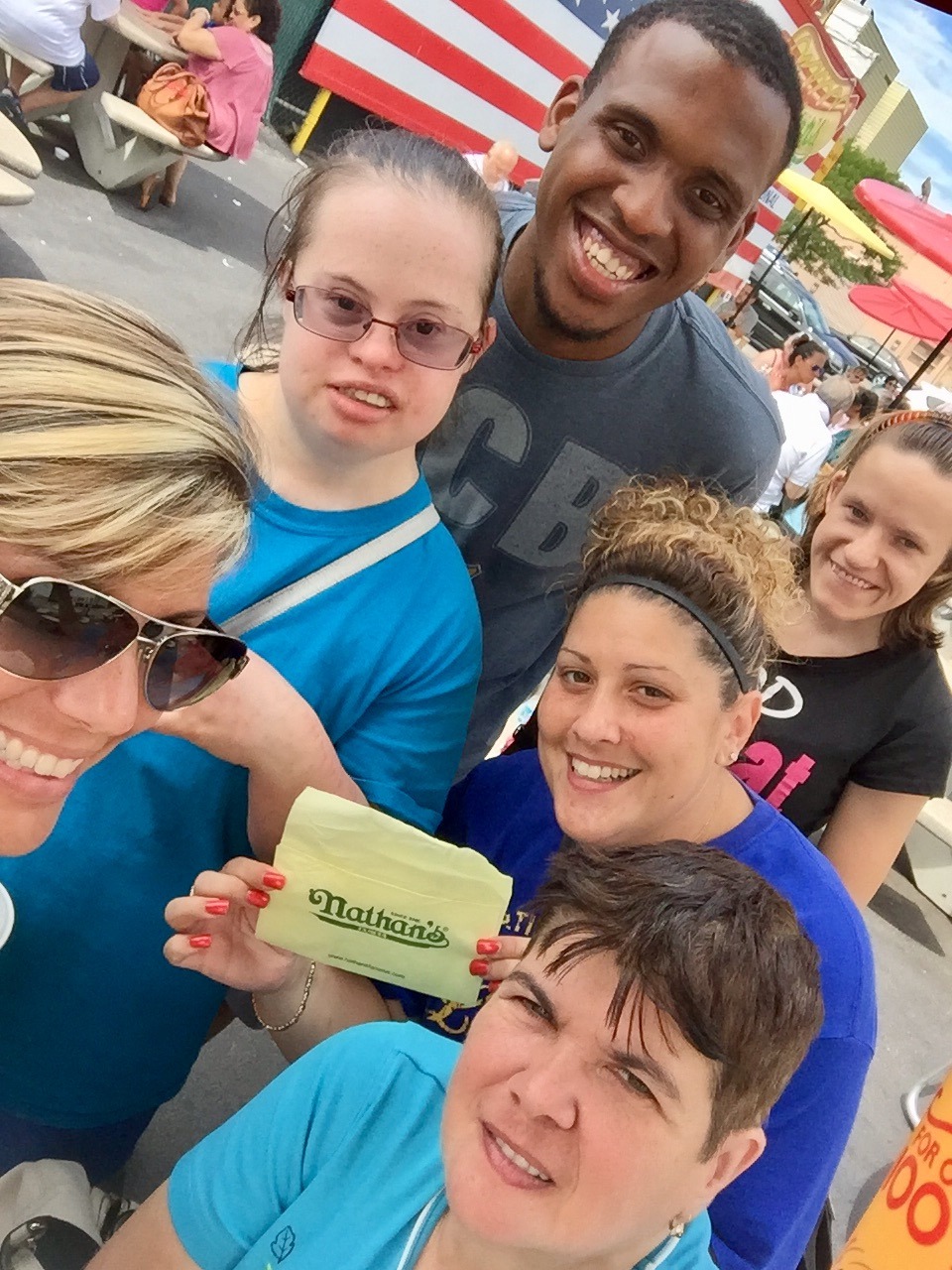 And of course, they couldn't go to Coney Island without a stop at Nathan's Famous. They didn't sample the famous hot dogs or frogs legs, but they did enjoy chicken sandwiches and burgers.
The other rides that caught there eye were the iconic Parachute Jump, now defunct and a landmark, and the Wonder Wheel.
"The Wonder Wheel is older than the Cyclone," said Michael Mazzone, Media Department staff.
"It's 99 years old," said Andrew M after a quick Google search.
In addition to being a ferris wheel, some cars "slide out" over the water, said Kamila.
"What would you like to ride on a future trip?" asked Joseph Jones.
"I don't like rides," said Kamila, shaking her head. But she liked the look of the Parachute Jump.
"The teacup is too fast for me. It makes me dizzy," said Janet. "I like the bumper cars."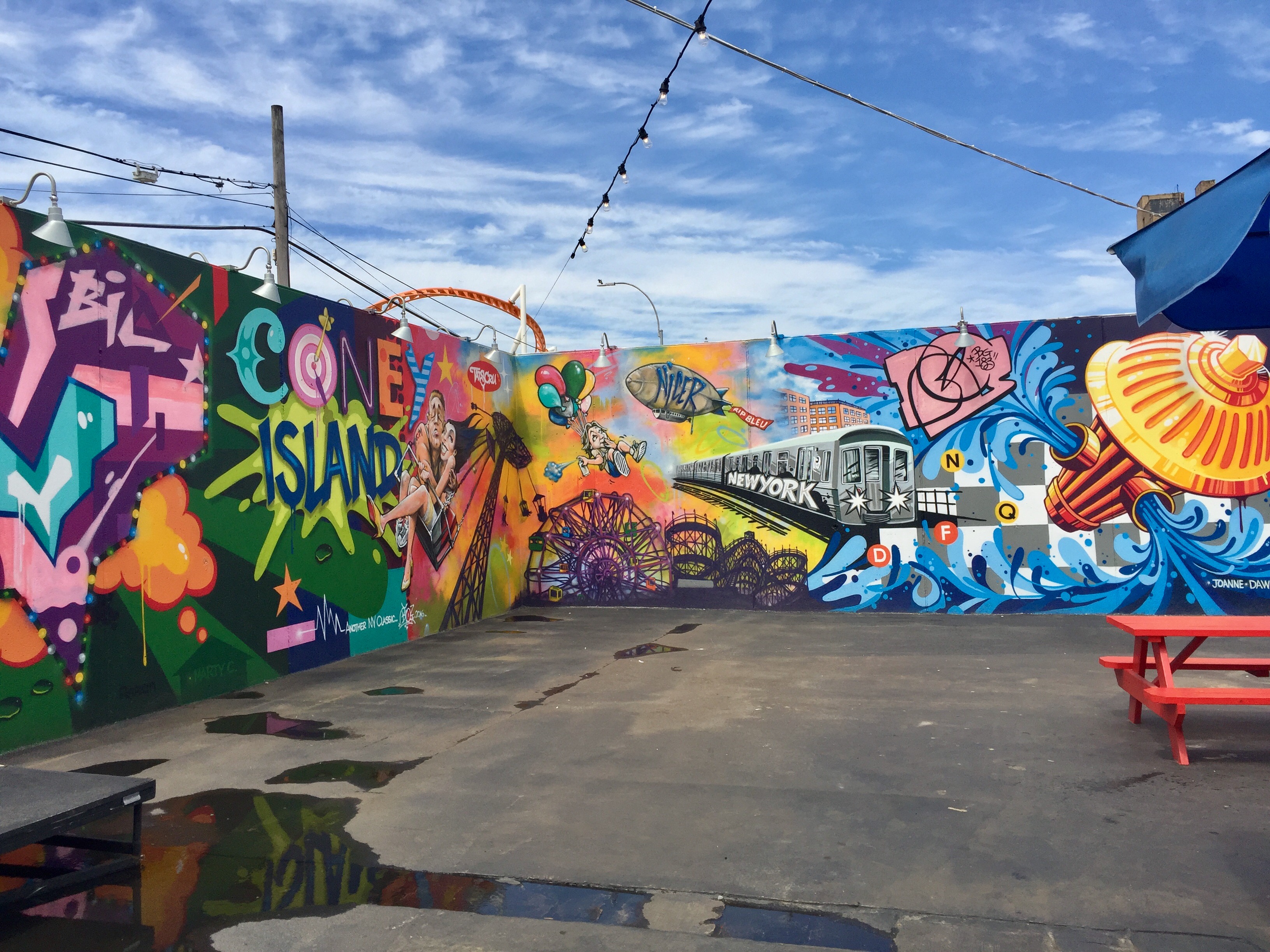 One unexpected highlight was discovering Coney Art Walls, an exciting outdoor exhibit of street art.
"You could spend all day there," said Stephanie of the murals painted on cement walls like handball courts.
"How did you get there? Did you take the D train," asked Andrew Moszenberg.
"We took the van over the Verrazano," replied Janet.
"When we got there around 10, it was quiet, but by the time we left, the boardwalk and beach were packed," said Stephanie.
Michael Cilmi, Anthony DiConstanzo, Anthony DiFato, Riki Garcia, Joseph Jones, Andrew Moszenberg, Greg Perosi and Eric Schwacke contributed to this story with Kathryn Carse.