"Quiet on the set! 5 – 4- 3- 2 …"

And so began a new Lifestyles for the Disabled community partnership with Community Television (CTV), a place where we can to go to produce television shows.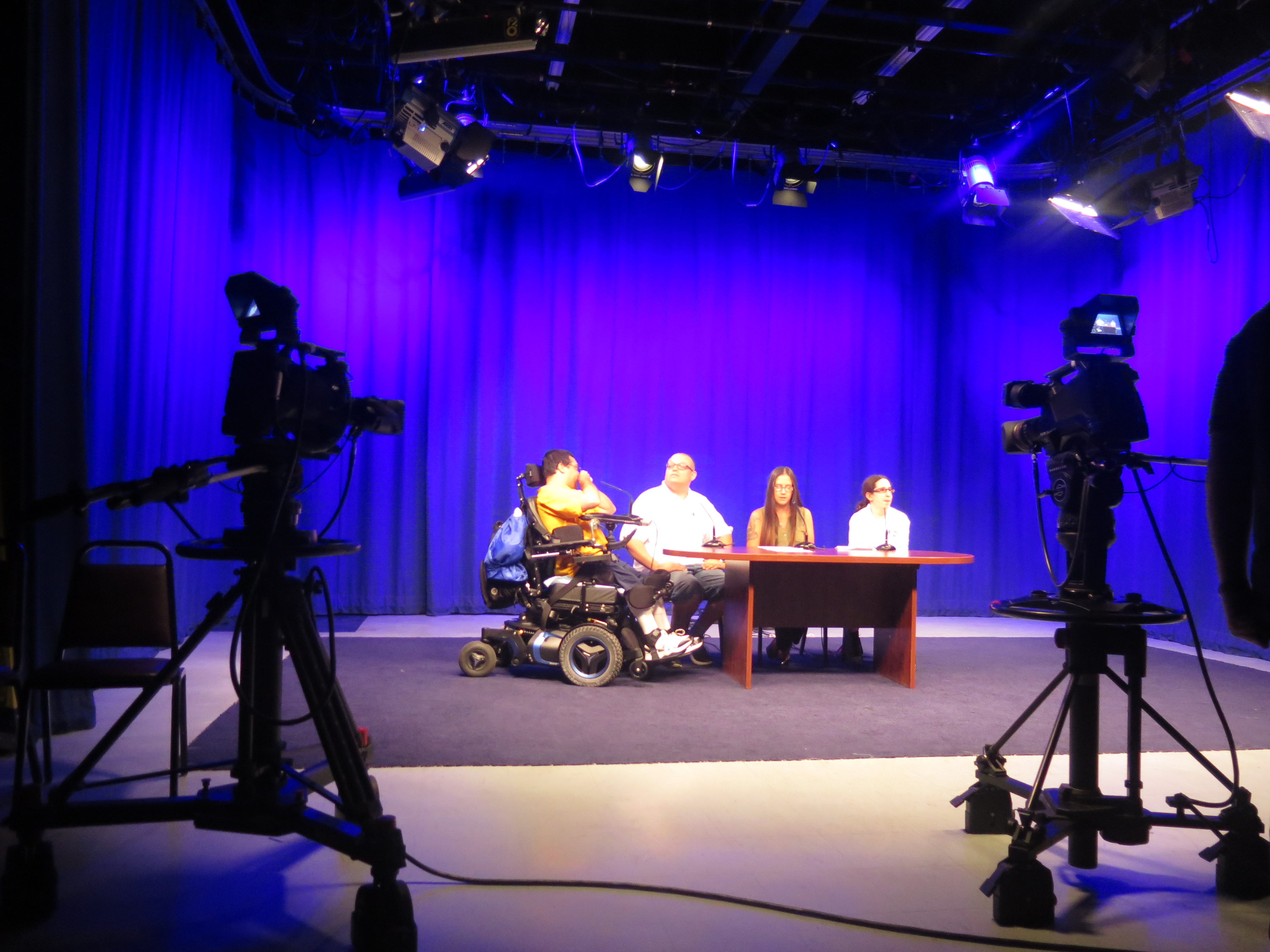 We visited the studios on Cable Way in Mariners Harbor and were impressed with the knowledgeable people who work there and the facility which includes studios, offices, a green room and editing rooms.
For our first show, Kristin Dalton, a reporter with the Staten Island Advance/SILive interviewed Lifestyle participants and staff about their work on Life-Wire News Service, a voice for people with disabilities. Life-Wire founders and developer Eddy Gregory, Joseph Maturi and Kathryn Carse were joined by Lifestyles Associate Executive Director Scott Salinardi for the first segment.
"Thanks to CTV, this helps us build our network and continue to grow our vision for Life-Wire. The show was an opportunity for us to explain the work we do and the skills we are teaching to provide content at lifewire.news." – Joseph Maturi/Co-Founder of Life-Wire.
"I was nervous to be on TV. I was afraid, what if I mess up," said Meredith A. "But I was prepared and Kristin guided me when I hesitated."
Meredith was part of a panel of future hosts along with Anthony P and Greg P. Meredith talked about her work as an interviewer and photographer which included working at 2016 NYC Fashion Week. Anthony described his experience interviewing and photographing the Staten Island Yankees. Greg recalled his interview with Staten Sen. Lanza at his annual Resource Fair.
"When I first got there, I was very enthusiastic about learning about TV and being on TV," said Anthony Pabon. "Seeing the work that was being done was very impressive."
Other Media Department members observed the taping from the audience. They saw lighting, sound checks and behind the scenes personnel in action.
"We had to be quiet during taping," observed Yoni C.
He and Harry R helped document the activity by taking photographs (see gallery below).
Whether on the set or in the audience, everyone is looking forward to going back and thinking about the role they can play in future CTV productions.
"Where I went today was the best expence I ever had," said Dolores P. "I saw how to work on set with people that work at CTV. I also learned a lot of new things that I might like to do in the future."
Meredith A., Yoni C., Andre F., Anthony P., Dolores P., and Harry R. with Kathryn Carse
Tune in Tonight 7/20 at 9pm ch. 37 for Fios customers and ch. 1997 for Spectrum Customers!
Photos by Yoni C and Harry R



Bonus track: Dolores Palermo interviews Gregory Perosi about the new Life-Wire News.