One great way to honor our heroes is by giving blood.  Come to the St. Sylvester Parish Hall to give on Monday, September 14, 2015 from 3:00 to 9:00 p.m. at 884 Targee Street, Concord. This blood drive is in memory of all who lost their lives on September 11, 2001, especially Firefighter Brian Cannizzaro and Paul Vincent Barbaro, both were parishioners of the St. Sylvester Parish.
"Since this year's drive honors two members of the St. Sylvester Parish," said Joanne Certo, director of the Lifestyles for the Disabled Educational Center, which operates at the site, "I hope everyone in the community will come out and support this event."
The blood supply is particularly low right now, particularly after the recent long holiday weekend, so there is a great need to give at this time.  Donors should be between 16 and 75 years old; 16 year olds need a parent's consent.  People must weigh at least 110 lbs and be in good health to donate.  Call the New York Blood Center at 800.688.0900 if you need more information on medical eligibility.  Please eat a healthy meal before donating, and remember to bring your identification.
Please contact Ben Brescia at 718.986.8633 to obtain a specific time slot to give blood.
Meredith Arout with Eddy Gregory for Life-Wire News Service.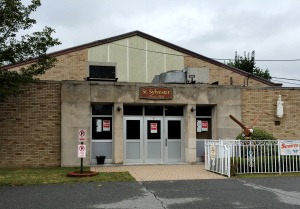 Photo by Meredith Arout for Life-Wire News Service.