By Anthony Pabon and Edward Gregory
1-  The Fire Fighter is the first fireboat of the Fire Department, City of New York (FDNY) with a diesel-electric propulsion system, making it the most powerful fireboat of its day. It could deliver 20,000 gallons of water per minute.
2-  Originally berthed in Manhattan, the Fire Fighter was stationed in Brooklyn at the Bush Terminals for a time before being relocated to Staten Island in 1967.
3-  The Fire Fighter took part in extinguishing the fires aboard the USS Normandy on Pier 88 on Manhattan's west side on February 9, 1942.
4-  On June 2, 1973 the Fire Fighter responded to an enormous fire in the Narrows when the Sea Witch collided with the SS Euro Brussels.  28 crewmen were saved from the deck of the burning Sea Witch.
5-  The long career of the Fire Fighter stretched from 1938 to 2010, fighting more than 50 fires in those years.
6-  The Fire Fighter is currently a museum vessel, located in the marina of the Village of Greenport in Suffolk County, NY.
7-  On December 7, 2010, The Firefighter was replaced by the FDNY's Fire Fighter II, which is quartered at the Staten Island Homeport in Stapleton.
This article is based on information at Fireboat Fire Fighter Museum as well as Wikipedia's Fire Fighter (fireboat) and Fire Fighter II pages.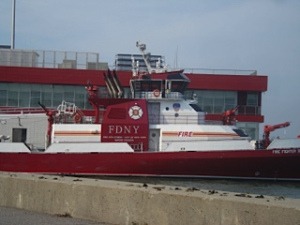 Photo: Fire Fighter II by Anthony Pabon for Life-Wire News Service